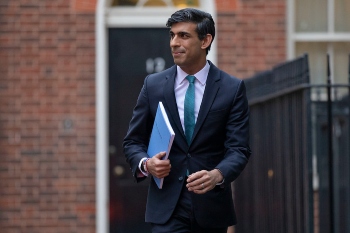 Chancellor Rishi Sunak has unveiled a budget to protect 'livelihood and jobs' – with a warning of public finance pain to come.
In a heavily trailed announced, the Chancellor delivered a range of measures to see the country through the remainder of the pandemic, including an extension of the furlough scheme and self-employed grants to September.
Business rates holidays will be extended to the end of June in a bid to keep businesses afloat through the pandemic, while a £5bn for high streets promised restart grants to get hospitality, shops and salons open.
The VAT holiday on tourism at hospitality will remain cut to 5% until September, then will sit at 12.5% until March next year, before returning to its usual rate.
The Treasury will continue its £20 a week universal credit uplift and an extra £126m was promised for apprenticeships, and a further £165m will be ploughed into getting the adult population vaccinated against COVID by July.
He also announced plans for a new 'campus' in Darlington as part of a commitment to get civil servants out of Whitehall and into the regions as part of his commitment to leveling up.
The chancellor told Parliament: 'Along with other critical economic departments including Business Energy and Industrial strategy, Department for International Trade and MHCLG - Ministry of Housing, Communities and Local Government - we will establish a new economic campus in Darlington - redrawing out economic map means rebalancing our economic investment.'
Announcing the biggest shrink to the economy in 300 years, Mr Sunak warned that the country could not continue to borrow to prop up public sector spending.
Mr Sunak announced a corporation tax increase to 25% from 2023, but only for businesses with profits over £50,000, with a tapered rate above the threshold.
Income tax personal allowance and the higher rate threshold will still rise next year, but will then be frozen until April 2026.
Scotland, Wales and Northern Ireland will all see city deals, with an extra £145m in towns deal for England, while eight freeports were announced.
There was some good news in the budget, with the economy expected to return to its pre-COVID levels by the middle of next year, six months earlier than previously expected.
Other measures in the budget included:
Increasing the national minimum wage to £8.91
£700m for arts, culture and sport to reopen
£19m for domestic violence programmes
£10m for veterans on mental health
Extending funding of £40m for Thalidomide victims – and a lifetime guarantee for their care
New recovery loan scheme of £25,000 up to £10m with an 80% government guarantee
Stamp duty holiday will be extended to 30 June, then will be £250,000 until the end of September
Government-backed 95% mortgages for first time buyers
Alcohol duties remain frozen