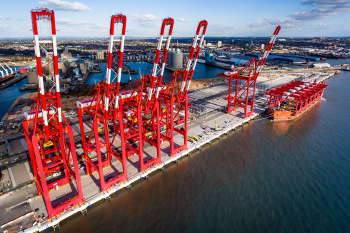 Chancellor Rishi Sunak closed his Budget speech today with a commitment to eight new 'freeport' sites - international gateways set to enjoy a raft of tax breaks from later this year.
New freeports in England will be launched at East Midlands Airport, Liverpool, Felixstowe, Humber, Plymouth, Thames, Teesside, and Solent.
Businesses on these sites will benefit from 'more generous tax reliefs, simplified customs procedures and wider government support, bringing investment, trade and jobs,' the Treasury said.
Subject to agreeing governance arrangements and successfully completing business cases, these freeports will begin operations from late 2021.
Discussions with the devolved administrations are ongoing to ensure the delivery of similar deals in Scotland, Wales and Northern Ireland 'as soon as possible'.
The Government promised to legislate for powers to create 'tax sites' on approval in the British freeports and bring forward legislation to apply in Northern Ireland at a later date.
In his Budget speech, the chancellor said the policy: 'Exemplifies the future economy, a policy on a scale we have never done before, to bring investment, trade and most importantly jobs across the country, to replace the industries of the past with green, innovative, fast-growing new businesses, to encourage free trade and our position as an outward-looking trading nation open to the world.'
He added it was a policy 'we can only pursue now we are out of the European Union,' forgetting perhaps that a total of seven freeports were established in the UK between 1984 and 2012.
This feature first appeared on Transport Network