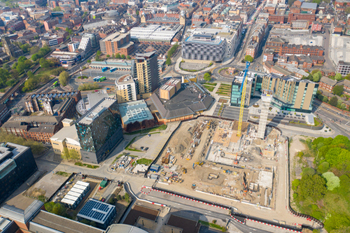 The new National Infrastructure Bank will be based in Leeds, the chancellor revealed alongside other Budget announcements badged under the Government's 'leveling up' agenda.
The new bank will provide financing support to private sector and local authority infrastructure projects across the UK, to help meet government objectives on climate change and regional economic growth.
The Treasury said the move would see it 'benefiting from the city's position as an established financial hub with excellent transport links across the UK'.
In addition, a new Treasury campus in northern England will be located in Darlington, County Durham.
Responding to the announcements, Debbie Francis, city executive for the North at development consultants Arcadis, said: 'This is a vote of confidence in the North. I hope moving parts of government to our Great Northern towns and cities acts as an incentive for other organisations and businesses to follow suit, in part or in full.
'It will have a greater impact on stimulating economic growth than the direct employment of any government jobs themselves.'
She added: 'We must still ensure real powers and funding are devolved to metro mayors and local leaders to deliver the Government's levelling up agenda but this is certainly a step in the right direction.'
The chancellor also confirmed over £1bn from the Towns Fund for a further 45 Town Deals across England. Officials said: 'This will help to level up regional towns, giving them the tools to design and implement a growth strategy for their area.'
In addition, ministers will launch a new National Infrastructure Commission study on towns and regeneration, 'which will consider how to maximise the benefits of infrastructure policy and investment for towns in England'.
The Treasury also published Build Back Better: our plan for growth, described as 'setting out the Government's plans to support economic growth through significant investment in infrastructure, skills and innovation'.
In relation to infrastructure, the document is mainly a round-up of existing commitments. It highlights a number of high-profile 'pathfinder projects' under Project Speed, 'to identify reforms that could accelerate and improve delivery across the UK Government's infrastructure portfolio'.
These include the Oxford-Cambridge Arc, the A66 Northern Trans-Pennine upgrade, and the new Northumberland Line railway.