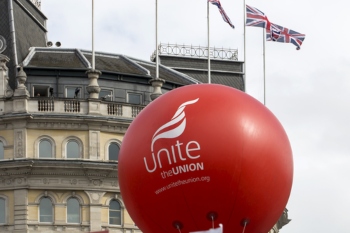 Unite's local government members will next month stage targetted industrial action at councils where enough members rejected the employers' 1.75% pay offer for 2021-22.
The union balloted more than 300 local authorities but has not yet disclosed the names or number of councils where the legal threshold for industrial action has been met and where action will be taken.
Unite disclosed that more than 80% of 70,000 members who voted in nearly 400 separate ballots were in favour of taking industrial action
The union said that the employers' offer remained 'completely unacceptable' given that the retail price index rate of inflation stands at 7.8%.
Unite said it was seeking a 10% uplift in pay for council workers who have 'experienced a real terms pay cut of 22% over the last 11 years'.
National officer for local government at Unite, Jim Kennedy, said: 'We had an excellent turnout, with 82% of those voting supporting industrial action, reflecting our members' disgust at the pay offer.'
GMB has already said it wanted to settle this year's pay round while Unison had been expected to accept the employers' offer today.
This would mean there was a majority on the trade union side in favour of settling the dispute, which would allow a formal collective agreement to be reached.