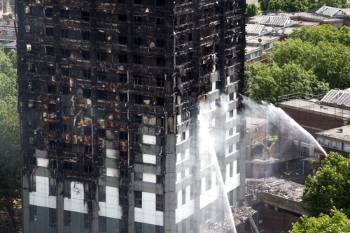 The Government today revealed an agreement that will see the housing industry contribute £5bn to ensure that the buildings they have built are safe for residents.
Levelling up secretary Michael Gove has agreed a solution with the housing industry that will see developers commit a minimum of £2bn to fix their own buildings. The industry will also pay an estimated £3bn through an expansion to the Building Safety Levy.
Mr Gove announced in February that amendments to the Building Safety Bill would mean that developers and product manufacturers in the building sector would be forced to pay for the removal of unsafe cladding.
The Levelling Up, Housing and Communities (LUHC) Committee criticised the measures in March as 'piecemeal' and called for the implementation of a Comprehensive Building Safety Fund to cover the costs of remediating all building safety defects on any buildings of any height where the original 'polluter' cannot be traced.
Under the new agreement announced today, over 35 of the UK's biggest homebuilders have pledged to fix all buildings 11m plus that they have played a role in developing in the last 30 years.
Mr Gove also warned that the Government is introducing new powers that allow enforcement on any remaining companies who fail to sign up or any that breach the agreement.
'Today marks a significant step towards protecting innocent leaseholders and ensuring those responsible pay to solve the crisis they helped to cause,' commented Mr Gove.
'I welcome the move by many of the largest developers to do the right thing. But this is just the beginning. We will do whatever it takes to hold industry to account, and under our new measures there will be nowhere to hide.'
Cllr David Renard, housing spokesperson at the Local Government Association (LGA), said: 'We are pleased that the Government has listened to calls the LGA has been making for several years to protect leaseholders from the costs of two decades of industry failure.
'However, we call on the Government to provide the same protection to council tenants and council tax payers as it has afforded homeowners, by exempting councils from the developer levy and funding the remediation of social housing on the same basis as private housing.'