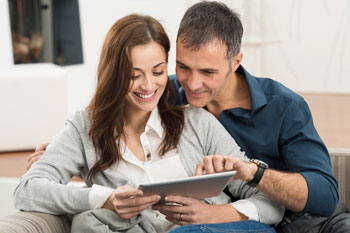 Progress is Janus-faced. It betters the lives of some but leaves others behind. The digital revolution is no different.
While digitisation streamlines the delivery of local authority services and saves money in the process, it can also leave some - often the most vulnerable - out in the cold. Councils and their partners need to learn how to bring everyone with them when modernising the way they do business; they need to bridge the digital divide.
In December 2014 Whitehall published an updated version of their Government Digital Inclusion Strategy. It outlines their intention to reduce the number of people without basic digital skills by a quarter in two years, but warned central Government could not do it alone. It stressed the importance of 'creating the environment for better, stronger joint working between people, business, charities and public sector.' In other words, cooperation would be the key to ensuring everyone benefits from advances in the digital realm.
There are many examples of precisely this kind of 'joint working'. In recent months the housing association Halton Housing Trust has joined forces with the telephone network O2 to tackle the digital divide afflicting Halton's customers.
The immediate context of the partnership was the introduction of Universal Credit (UC). This overhaul of welfare provision has included the digitisation of many services, such as the paying of rent or arranging repairs. There are many benefits to this, of course, but it threatens to turn the digital divide into a chasm.
Nick Atkin, chief executive of Halton, welcomes the introduction of UC but recognises the exclusively digital aspect of it could prove challenging. 'The introduction of Universal Credit represents the biggest revolution to welfare services in decades,' he said. 'It will streamline services and offer greater financial control for many.'
However, he also added: 'Many of our customers, especially older residents who do not have the digital confidence to get online, admit to feeling overwhelmed by the move away from analogue.'
This is why, in partnership with O2, Halton developed the 'Open Digital' initiative.
'Open Digital' provides Halton's residents with a tablet and 1 GB of data per month, enabling online access to digitised UC services. It also allows users to connect easily with the Trust's services at any time, from anywhere. The tablets, moreover, allow residents to access other resources, such as job and health information sites.
The move away from analogue can be intimidating, but handled carefully the transition can be carried out in a manner beneficial to all involved. 'It's our responsibility to help our customers address these challenges and achieve financial independence and stability,' Mr Atkin said, 'which is why we've partnered with O2 to do this through digital means. By giving people digital connectivity, we're helping them get back in control.'
Digital inclusion is a particular concern for O2, their managing director of public sector business Billy D'Arcy explains. 'We recognise there is a digital divide and its one that we feel we can address ourselves as an organisation that has the capability and, I guess, the appetite to do so.'
'Open Digital', Mr D'Arcy says, comes at a time when the Government is encouraging maximum digitisation in the public sector and local authorities, and their partners, need to get on board or else the divide will only get worse.
'It's going to leave a large portion of the population paper-bound and not help them from a digital perspective,' he warned.
It is not just service users who benefit from increased levels of connectivity. Halton reports a third more of their customers are now accessing services online, a fact they say has led to an over 40% reduction in incoming calls. This means an improvement in business efficiencies and productivity.
And the advantages that accrued to Halton are possible elsewhere. O2 organised a Digital Communities pilot in partnership with St Helens Council between October and December 2015 in order to show how technology can be applied to boost productivity levels among local businesses and address digital skills shortages. The results, published as Rebalancing Britain: Inspiring thriving Digital Communities, were promising.
Over the long term, the report estimated, measures introduced by the pilot could inject an additional £46.3m into the St Helens economy by 2020 by driving job creation and enhancing workforce productivity. After this pilot, St Helens moved 15 percentage points (17 places) up the Digital High Streets Index, an index which measures the digital awareness of high street retailers.
O2, Mr D'Arcy tells me, is looking to expand this to make it a nationwide digital awareness project. 'We're in the process of looking to scale it. We'll be working with central government and local government to understand what the best model and roll out plan for that is,' he explained.
This also has the potential to contribute to the devolution agenda. Rebalancing Britain also said replicating the pilot in just eight towns in the North of England could boost the region's economy by an additional £410m by 2020, helping to close the growing gap with the South.
Digital inclusion is, of course, never a smooth process. Billy D'Arcy recognises this. He acknowledges there are barriers—differing education levels between users, generation gaps, fear—that slow down the introduction of new technology. But he believes there is a willingness to go down this road. 'We absolutely recognise that within the public sector there is a desire to do digital transformation,' he explains.
For a cash-squeezed public sector, operating in a digital world, it is a transformation worth doing it seems - so long as no one is left behind, that is.