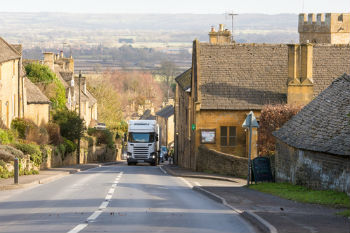 Councils are calling for the power to fine rogue lorry drivers who flout weight restriction limits.
The Local Government Association (LGA) says a spate of incidents has blighted villages and towns where lorries have blocked streets, got stuck in villages and crashed into bridges and homes.
The LGA says such episodes are often the result of lorry drivers following routes not suitable for their size or weight, sometimes because of using sat nav.
In a survey by the association, more than half of councils said this was one of the most important traffic issues in their communities.
The LGA says there is much more they could do if they had powers to fine rogue drivers who flout weight restriction limits – currently only available to the police and councils in London and Wales.
LGA transport spokesman Martin Tett said: 'With powers to enforce moving traffic violations also given to councils outside of London and Wales, they could act to prevent disruption by the minority of rogue lorry drivers that incorrectly use weight restricted roads through our towns and villages and cause havoc and mayhem on our local roads.
'They would also help councils unblock congestion hotspots that delay buses, lengthen journey times and reduce pollution from stationary and slow-moving traffic, and help cyclists ride more safely.'