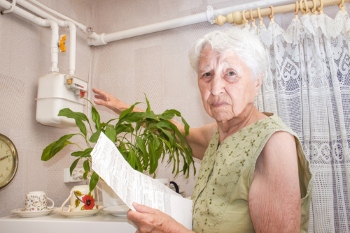 Charities and campaigners have warned that one in three households could be plunged into fuel poverty as a result of Russia's invasion of Ukraine.
The End Fuel Poverty Coalition (EFPC) has issued a warning that the average energy bill could soar to £3,000 because of the Ukraine crisis. The coalition predicts that this could leave 8.5 million UK households unable to heat and power their homes.
The coalition has urged the Chancellor to rethink the 'heat now, pay later' rebate and to use his economic statement in March to shield the most affected households from the energy crisis.
The Chancellor announced in February that all households would receive £200 off their energy bills in October, but then will pay the discount back by £40 a year over five years from 2023.
The scheme was introduced after the energy regulator Ofgem announced it would raise the price cap to just under £2,000.
Adam Scorer, chief executive of fuel poverty charity National Energy Action (NEA), which is part of the EFPC, said: 'When energy bills hit £2,000 a year there will be over 6.5 million UK households in fuel poverty. Analysts suggest the war in Ukraine could drive average bills to £3,000 per year. This could leave 8.5 million UK households in fuel poverty denied a warm safe home.
'This is a disaster and inevitably, will lead to more needless winter deaths. Government must address the scale of the problem and use the upcoming economic statement in March to cut energy bills much further for the poorest. It must act now, to protect the most vulnerable, and to save lives.'
Trade unions have also called on the Government to protect working families against further energy price rises as a result of the Ukraine crisis.