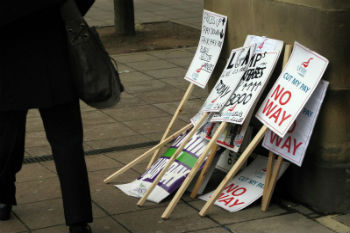 Decisions by the leaders of all three unions involved in pay talks for local government workers to put the latest offer out to their members for their consultation could signal strife in the months ahead.
By early March it should be clear whether Unison, the GMB and Unite are prepared to take the next step towards some form of industrial action.
They know that many will be angered by the two-year 2% offer when inflation is running at a much higher rate - 3.1% on the CPI index and nearly twice as high at 3.9% on the RPI index which takes the cost of housing into account.
Many local government workers will also be aware of the fact that the reward for their work has fallen dramatically since the imposition of a series of pay freezes and restraint policies since 2010 - estimated at a 21% cut in real terms.
A glance at the awards in recent years makes painful reading for anyone who believes local government workers do important jobs on behalf of their communities - a 1% rise in 2009 was followed by three years of 0% increases and 1% in 2013, 2.2% in January 2015 and then two more years of 1% increases. During this time inflation continued - albeit at low levels - hence the big cut in real terms pay over the years.
The latest offer put forward late last year by the employers' side of the National Joint Council on behalf of 350 councils in England, Wales and Northern Ireland would mean most employees, currently on £19,430 upwards, would receive a 2% rise in April followed by a further 2% next year.
For those on the bottom of the pay scale the offer would increase their hourly rate from £7.78 now to £9.00 in April 2019 – a 15.65% increase.
The Local Government Association estimates the total increase to the national pay bill resulting from the two-year deal - which does not apply to chief executives, senior officers, teachers or firefighters, who are covered by separate arrangements - would be 5.6%.
However, the unions face major problems in winning a better offer.
First, the argument from the employers' side will be that they have no more money - a traditional response in pay negotiations, but in this case probably justified. With their hands tied by huge cuts in their finances and a government wedded to austerity, the local authorities have little, if any, room to manoeuvre.
They can argue with some credibility that any extra money paid in staff salaries will mean less for front-line services.
Further, councils are being encouraged to move away from paying across-the-board deals for large groups of workers and instead to set up systems for rewarding staff according to their efforts and results. As long ago as 2013 the then chancellor George Osborne confirmed plans to move away from traditional pay structures in the public sector and the LGA said it would 'encourage councils to think about how best to link pay to contribution.'
In recent years the national pay structure has been massively decentralised and the only things now negotiated nationally are the points on a national pay spine and the annual percentage increases on those points. Development of grades and pay bands using the nationally-agreed pay spine is a local matter.
This creates a complicated scenario in which common across-the-board pay rises become more difficult. Each individual council must now take into account a range of factors when working out their pay strategy including the nature of each job and local labour market conditions.
Crucially, the unions will have to make sure they have the active support of their own members. Recent ballots have sometimes shown pitifully low turnouts, reflecting a big gap between what the activists say and what their own members are prepared to do.
Finally, public opinion is always key in any industrial dispute. Unions have worked hard in recent years to ensure that the public understand the issues and appreciate the work their members do on their behalf. Whether that would extend to supporting council workers in industrial action over pay is another matter.
Nevertheless, in these changing times it is possible the public could rally to the support of local government workers and demand they are given better rewards for their efforts.
With little money in their coffers to pay more, the buck stops with the government as to whether local authority staff should be offered more. The coming weeks and months will tell if the unions - and their employers - can force the government to hand over funds for a better pay deal.
But given all the prevailing conditions, it's a very big 'if'.