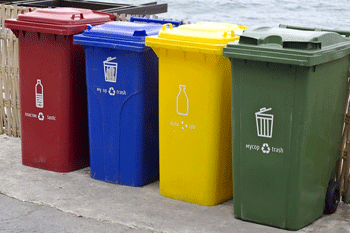 A Welsh council has announced it will only collect refuse destined for landfill or incineration once a month in an effort to save money and encourage recycling.
Following a year-long trial of 10,000 households, Conwy County Borough Council has decided to move to a four-weekly refuse collection service this September.
Before the trial was undertaken, the council found that over half the contents of people's bins could have been recycled. Those lost materials ending up in landfill cost the community £1.6m every year.
Conwy estimates the new regime will save the authority £390,000 a year.
The final results from the trial showed that over that one year period, recycling increased by 14% and refuse in wheelie bins reduced by 31%.
The council provides weekly recycling collections for food waste, paper, card, cans, glass, plastics, Tetra Pak and even batteries, and fortnightly collections for green waste, textiles and small electricals.
'Residents can make use of 15 collections over a four week period – or 19 if they use the nappy or incontinence product collection service – so there are lots of opportunities to recycle,' said Cllr Donald Milne, Conwy's cabinet member for environment, roads and facilities.
'The key to making this a success and making sure that there is enough space in your rubbish bin is to make the best possible use of the recycling collections – particularly the weekly service for food waste.
'I'd encourage everyone to check the list of things that can be recycled because it is now quite extensive.'
The campaign group Keep Britain Tidy also called today for a new national recycling system to replace what they described as the UK's 'barmy' system of recycling.