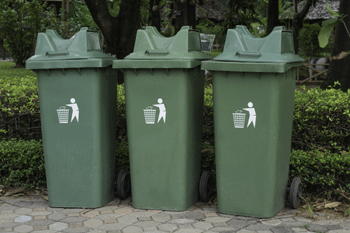 Every household in the country should be able to recycle the same items under a new national system, according to calls from Keep Britain Tidy.
The environmental charity said there are more than 150 local waste management systems in place, with households recycling less than half their waste.
It wants the introduction of a new, nationally consistent service that would be funded by manufacturers placing products and packaging on the market.
It is also calling on local authorities to incentivise the public to recycle more, such as introducing new 'Pay as You Throw' systems.
Allison Ogden-Newton, chief executive of Keep Britain Tidy, said: 'It's clear that we need to take radical and immediate action if we are going to really change the way in which we consume, use and then reuse our precious resources.
'The public has a huge role to play in helping drive this change but we need to get rid of the existing complexity and develop a simple, nationally consistent collection system combined with tangible rewards to encourage better recycling.'