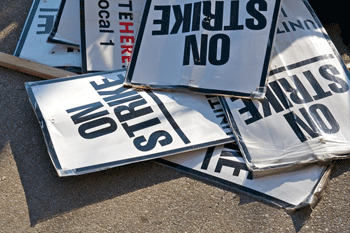 Trade union Unison has warned of future strike action unless local government employers improve their pay offer.
Unison is to ballot for industrial action among the 400,000 council and school staff it represents in England, Wales and Northern Ireland after 79% of members who took part in a month-long consultation voted to reject the 1.75% offer.
The union said the offer fell 'well short' of the 10% claim put forward for this year together with GMB and Unite, which are expected to announce the outcome of their own pay offer consultations this week.
Unison members will now be asked to vote yes to taking action in support of the union's campaign for better pay, meaning a deal is not expected to be agreed for some time.
Deputy head of local government at Unison, Mike Short, said: 'Council and school workers have made clear the strength of feeling about their pay.
'An offer of just 1.75% is totally inadequate for workers who're already among the lowest paid in the country.'
Local government employers are due to meet later this month to assess the situation.