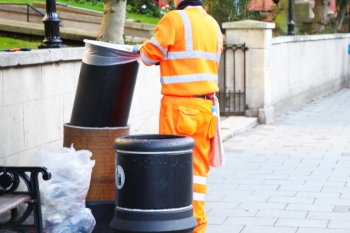 Unions have urged waste and recycling staff to stay at home if 'pinged' by the COVID-19 app despite several councils having to reduce or suspend services.
The news comes after the Government exempted waste and recycling staff from having to self-isolate if contacted by NHS Track and Trace, in a bid to tackle the 'pingdemic' that has led to more than a million works being unable to travel to work.
Unison's deputy head of local government Mike Short said: 'People are being pinged for a reason. That's because they may have come into contact with the virus.
'Only in exceptional circumstances should refuse staff notified by the app be asked into work. No-one should be forced to go in, and anyone that does must be regularly tested in work time.'
A similar position has been taken by unions north of the border, with GMB Scotland advising its members working in waste roles to turn down the exemption status.
Drew Duffy, GMB Scotland's senior organiser for public services, said the 'major underlying factor' was 'the chronic understaffing in our front-line services after years of cuts'.
The Local Government Association's environment spokesperson, Cllr Darren Rodwell, said councils had been working hard to keep waste services running despite staffing problems.
He added: 'These issues are partly due to the increase in 'pinged' staff but also a larger problem with a shortage of HGV drivers.'