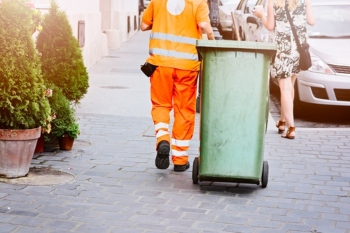 Several local authorities have been forced to reduce or suspend waste and recycling services due to staff having to self-isolate and a national shortage of drivers.
Many councils have declared an 'emergency situation' after large numbers of staff have been told to self-isolate by the COVID-19 app. This has been compounded by a national shortage of 100,000 HGV drivers as a result of Brexit.
Derbyshire Dales District Council has been forced to suspend all food waste collections and has warned residents some recycling and domestic waste collections will be missed.
A statement from the council said: 'The staffing situation at our contractor Serco - caused in part by a national shortage of drivers and also by new COVID isolations - is now just as acute as it was in the early months of the pandemic.'
Stockton-on-Tees Borough Council has moved its weekly bin collections to fortnightly for most households and suspended all green waste collections. Derby City Council has also been forced to delay some collections and suspend its garden waste collections as well.
Both Reading Borough Council and Doncaster Council have temporarily suspended their garden waste collections to focus on maintaining statutory refuse and recycling collection services.
Cllr Adele Barnett-Ward, Reading's lead member for neighbourhoods and communities, said: 'Councils across the country are experiencing disruption to waste collection services caused by the increasing number of COVID cases and consequent rise in people having to self-isolate. In Reading, we are doing everything we can to keep essential services going for our residents and minimise disruption to collections.
'Pausing green waste collections will help our efforts to ensure we can concentrate on priority waste and recycling collections.'
Cllr Mark Houlbrook, Doncaster Council's portfolio holder for sustainability and waste, said: 'It is balancing act to safeguard everyone's safety against the risks of COVID-19 and making sure the bins are collected. However, as we have fewer staff members, this will mean that black and blue (recycling) bin collections will be prioritised.'