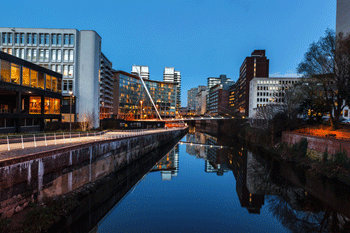 UK cities are becoming more prosperous but success comes with a price tag of less affordable housing and longer commutes, according to research by PwC and Demos.
The 2017 Good Growth for Cities Index says there is a 'critical' need for local industrial strategies addressing housing, transport and skills gaps. It also urges cities, local enterprise partnerships (LEPs) and the combined authorities to ensure their local industrial strategies align with the national version.
The index – which the two organisations have compiled since 2005 – measures 10 indicators intended to capture overall wellbeing of residents as well as economic performance and living standards. Indicators range from new business starts and employment to commuting times, environmental factors and income inequality.
The 42 cities all improved their overall scores in the latest index – largely due to improved employment. However, many saw minor declines in both the health and work/life balance indicators.
Jonathan House, government and public services partner at PwC, said: 'If cities are to sustain the strong performance of recent years… [they must put] a priority on delivering place-based growth which is inclusive and addresses key supply side constraints – particularly infrastructure.'
Oxford and Reading top the index again – reflecting particularly strong performance on the jobs, incomes and skills indicators.
However, cities from the North and the Midlands are among those to record the biggest increases in index scores. Birmingham and Leeds had the most improved results, with Newcastle, Liverpool and Derby also making the 'most improved' top 10.
Paul Terrington, PwC's head of regions, said: 'Some areas in the North and the Midlands that had lagged behind in the recovery from the financial crisis are now showing clear improvements in their index scores.
'The economic recovery is now spreading across the country rather than being focused on London and the South East.' However, the report notes that several LEPs 'with a strong industrial heritage' remain below the 2011/13 index figures.
Southampton's significant improvement this year saw it leap to third place. Leicester also made significant progress.
The report suggests a link between the devolution agenda and local performance and urges further devolution of powers in health and social care, infrastructure and skills – alongside a 'reboot to the devolution process'.
Highest ranking cities
1) Oxford
2) Reading
3) Southampton
4) Edinburgh
5) Bristol
6) Milton Keynes
7) Cambridge
8) Coventry
9) Leicester
10) Swindon
Top 10 improvers
1) Birmingham
2) Leeds
3) Leicester
4) Newcastle
5) Southampton
6) London
7) Middlesbrough & Stockton
8) Wolverhampton & Walsall
9) Liverpool
10) Derby