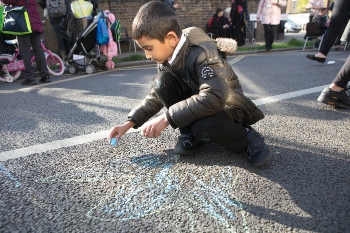 East London borough Tower Hamlets has launched a scheme to create 50 streets where traffic is diverted away from school gates.
It has enlisted the Sustrans - the walking and cycling charity - to deliver the first 11 of the new 'school streets' to clean up air quality.
This week Tower Hamlets was also named as one of the areas with the most school streets planned in the country.
Research has shown children in the borough typically have 10% less lung capacity than the national average because of poor air quality.
Beginning in the autumn, proposed changes to the road network and surrounding environment will be developed with the first wave of schools before a public consultation.
Agreed changes will then be introduced in the first quarter of 2020.
Mayor of Tower Hamlets, John Biggs, said: 'Poor air quality disproportionately impacts on both quality and length of life, so we have been promoting changes to behaviour that will clean up our dirty air for several years.
'Appointing Sustrans to work with us is another important step on the path to delivering our commitment to introduce school streets for 50 of our primary schools by April 2022.
'We want to make it easier and safer for our pupils to walk to school and breathe cleaner air.'