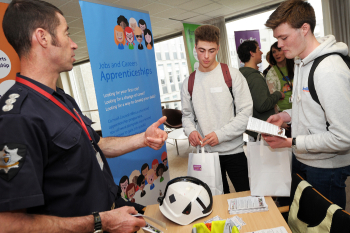 In 2015, driven by the forthcoming Apprenticeship Levy reforms and public sector targets, Cornwall Council took the decision to re-evaluate its approach to apprenticeships.
Having previously employed a handful of apprentices on an ad-hoc basis, the council recognised that apprenticeships could play an integral role in addressing the skills challenges being faced both by the organisation and the county as a whole.
Setting out an apprenticeship strategy, in conjunction with its workforce strategy, the council has a target to reach 500 apprenticeship starts by 2021, with around 100 apprentices starting in 2017 in a variety of roles across the organisation. As such, the council is looking to apprenticeships to ensure it can meet skills needs, develop more high quality career pathways in the area and increase progression opportunities for its existing employees.
Taking a new approach
In 2015, in anticipation of the changes the Apprenticeship Levy would bring, and the required 2.3% apprenticeship starts target for public sector organisations, Cornwall Council knew that, as a high levy payer, it needed to ensure apprenticeships were going to bring in the required skills and capabilities to help build a new pipeline of talent. As such, 2017 has seen Cornwall Council take its first major step in implementing its long-term strategy, recruiting its first cohort of 100 apprentices.
Joan Mallard, HR talent strategy team leader at the council, explains: 'We wanted to maximise our levy fund, not just meet government targets. The council faces a number of challenges over the next few years and getting the right people with the right skills is essential to meeting these.'
She continues: 'Apprenticeships are key to helping us do this. This is why, at the outset, we invested time and effort in mapping out a comprehensive strategy, ensuring that the injection of apprenticeships into the organisation is in line with our current and future needs.'
Getting the message across
Despite having an overarching apprenticeship strategy in place, a key challenge faced by the council has been communicating the apprenticeships message across its 5,500-strong workforce.
Ms Mallard explains: 'The reforms in 2017 and the introduction of the Levy have changed the apprentice landscape so much that many of our managers and staff were not aware of the variety of apprenticeships on offer, as well as the many benefits they could bring to their teams.'
She continues: 'Equally, our apprenticeship strategy focuses on increasing career progression opportunities for our current employees. Therefore, we also needed to inform staff of the growing opportunities available to them. In many ways we needed a strategy for promoting our strategy!'
As a result, the council is undertaking regular activities to actively promote apprenticeships across the organisation. As a first step, this included establishing a recognisable apprenticeships brand for the council, to ensure the information is immediately recognisable and easy to find for staff. The Council also holds regular manager information sessions throughout the year, alongside ongoing internal promotional activity around apprenticeships aimed at all staff.
Ms Mallard says: 'We're already ahead of schedule to reach our 500 apprenticeships starts target and part of this success is down to our promotional work. Telling our staff and managers about apprenticeships and their benefits is essential and we're continuing to get more and more interest from teams and departments, which will allow us to keep on growing our apprenticeship offer.'
Growing your own
For Cornwall Council, the concept of 'growing your own' talent is central to its workforce strategy – ensuring it is attracting and retaining people with the skills the organisation needs to deliver its services. Apprenticeships are key to this approach and, as a result, the council remains open to recruiting apprentices to undertake any available apprenticeship Standard if it meets a skills need. As such, three times a year, the council offers apprenticeships ranging from Level 2 to 6 in anything from vehicle engineering, business administration, management, web and media, commercial procurement, chartered surveyor through to operational firefighting.
Ms Mallard explains: 'We're a large organisation who deliver a wide variety of services, which is why we don't think it makes sense to limit the apprenticeships we offer.'
She continues: 'Adopting a cohort approach also means that our managers and directors can plan and identify what skills they are missing and take on new apprenticeship starters at different points in the year accordingly.'
To tackle skills gaps, not just within the council but across Cornwall, the organisation is looking to develop partnerships with other public sector bodies in the county. Areas in which the council believe apprenticeships will make a real difference include Adults and Children's services, where skills shortages are most keenly felt. As such, the council is piloting an integrated apprenticeship, in partnership with the Royal Cornwall Hospitals NHS Trust. Currently, two of the council's business administration apprentices are jointly recruited with Royal Cornwall Hospitals on this integrated programme. One works at the hospital in the adult safeguarding department and the other at the council, in its mirror adult safeguarding department. After six months, the apprentices will swap placements, allowing them the opportunity to experience working in both environments.
Ms Mallard explains: 'This is an exciting programme we've got in place and one which we hope to roll out across other apprenticeships, particularly in areas such as social care where there is often a lot of crossover with our healthcare counterparts. This integrated approach not only allows our apprentices to get a more rounded experience, but, going forward, we will have a number of people trained to work for two organisations. This means in periods of high demand we will be able to take on staff from our partner organisations and vice versa.'
Moving on up
In addition to growing talent from the ground up, the council is looking to use apprenticeships to help raise skills levels across the workforce through offering higher level apprenticeships to its existing staff. Cornwall has one of the lowest proportions of higher level qualifications within its population. Therefore, as one of the largest employers in the region, the council believes this initiative will not only benefit the organisation but have a positive impact on the area more widely.
Since September 2017, in partnership with Plymouth University, 16 of the council's staff are on a degree apprenticeship in either management practice or digital and technology solutions, with a further batch due to start in September 2018. Of the council's 120 current apprenticeships, just over half are existing staff and the organisation has achieved a 50/50 ratio of new starters to existing employees much earlier than planned for in their Strategy. This will enable more people within the organisation to have clear, high quality progression pathways, ultimately raising the skills level and aspirations of its staff.
Looking ahead
Cornwall Council may be taking its first steps into expanding its apprenticeship offer but it has a clear vision for success. As well as filling vital skills gaps and providing more high level opportunities, the council hopes its investment in apprenticeships will benefit the area as a whole. As it looks to continue to expand its apprenticeship offer, the Council is also keen to use apprenticeships to engage with care leavers, the long-term unemployed and those with disabilities to provide them with opportunities to enter the workforce.
Ms Mallard concludes: 'Apprenticeships have a huge amount of potential for both employers and learners and we're already beginning to see the impact of this. We have big plans for our apprenticeships and believe they will be essential in helping us tackle key skills gaps as well as open up more and more high quality opportunities for people, raising aspirations in the area in the long term.'
The National Apprenticeship Service
The National Apprenticeship Service supports the delivery of apprenticeships in England, offering free, impartial advice and support to employers looking to recruit for the first time or expand their apprenticeship workforce. Interested in finding out more about employing apprentices? Complete the online enquiry form on GOV.UK or call the National Apprenticeship Service on 08000 150 600.
The National Careers Service
The National Careers Service employs more than 1,200 careers advisers, who provide free, up to date, impartial information, advice and guidance on careers, skills and the labour market, across England, to young people (aged 13 years and over) and to adults, including adults in custody. Individuals can access the service by searching online for National Careers Service or by calling the Exam Results Helpline 0800 100 900.