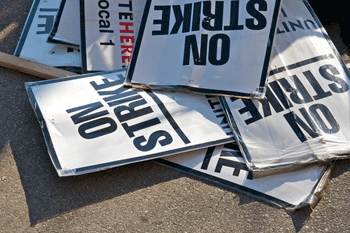 Three months of strike action by civil enforcement officers at Ealing LBC has come to an end.
There will be no return to the picket lines after an agreement was reached between the Unite trade union and outsourcer Serco.
Nearly 50 parking enforcement officers have been engaged in intermittent strike action since May.
The industrial dispute began after individual Unite representatives and lay members were offered severance agreements by Serco, which the union said undermined collective consultation.
Unite had also taken issue over Serco's absence policy.
The two parties have signed an agreement implementing new 'anti-bullying and harassment measures', protecting staff from dismissal relating to the absence policy, and improving the terms governing compassionate leave.
Unite regional officer Clare Keogh said she looked forward to 'improved industrial relations' with Serco following the resolution of the dispute.
She added: 'Our members stood together on the picket line for three months to protect their trade union and collective bargaining rights.
'They understand that employers would much prefer workers to be atomised and unable to organise as a group to defend themselves and seek improvements to pay and terms and conditions.
'Unite's position remains that public contracts, such as parking enforcement in Ealing, should be taken out of the hands of outsourcers and brought back in-house by local authorities.'
Serco has been approached for comment.