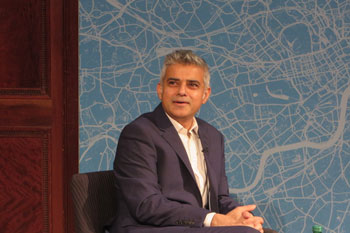 The mayor of London today announced a 'modern comeback for council housing' with plans to build 10,000 new homes over the next four years.
Sadiq Khan is making £1.67bn available to help the capital's boroughs boost the number of council houses available.
Local authorities will be able to bid for the grant funding at a special rate, which will allow them more easily to offer new homes based on social rent levels.
In the 1970s, London councils built more than 20,000 homes a year. This figure dropped to almost zero during the 1990s.
Councils now contribute less than 2% of London's new homes per year.
'I am proud to launch Building Council Homes for Londoners – the first ever City Hall programme dedicated to new council housing,' said Mr Khan.
'I want to help councils get back to building homes for Londoners again, and I'm doing that with support from the £1.67bn fund I secured from government to help get 10,000 new homes underway over the next four years.
'I am offering councils expertise and resources from City Hall to scale up their homebuilding programmes, and I will help them to replace homes sold through Right to Buy.
'The Government is failing to enable councils to replace the hundreds of thousands of council homes sold through Right to Buy, and so I will do all I can to help councils replace as many of them as possible.'
An estimated 306,000 social homes have been sold off in London since Right to Buy was introduced in 1980.
In response to the mayor's announcement, Sian Berry AM, chair of the London Assembly Housing Committee, said: 'The mayor's announcement today, which aims to kick-start the building of more council homes, is a step in the right direction to help solve London's housing crisis.
'We are pleased that the mayor is focusing these resources on building more truly affordable homes, based on social rent levels and not at the definition that goes up to 80% of market rents.
'Only 9% of the mayor's last tranche of grant funding went to councils, with the rest going to housing associations, and it's positive he is doing more this year to help councils secure these grants.
'If the mayor is to build the number of homes at real social rents that London needs, his plans will have to be even more ambitious.'
'As a committee, we are also keen to make sure that these grants go only to additional new council homes for Londoners, not replacements for homes being demolished as part of development schemes,' she added.