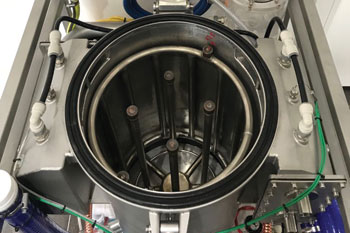 The HERU (Home Energy Resources Unit) is a UK innovation that generates hot water for the home from everyday items previously discarded as waste. In simple terms, a household would put a bag of resource (that would otherwise have been disposed of) into the HERU (which is about the size of a washing machine) and it would be heated using heat pipe technology to around 300°C (similar to a conventional oven).
The resource becomes char, releasing tiny amounts of oil and gas, which are both captured. The HERU cleans the oil so it is safe to discharge and it utilises the gas for use in a domestic boiler. A single cycle of the HERU can produce up to 122 litres of hot water a day. Ultimately, it avoids the creation and collection of waste and significantly reduces the amount of carbon generated.
Supported by the European Regional Development Fund and Worcestershire Councils, the Low Carbon Opportunities Programme was established to support low carbon innovation by small to medium enterprises in Worcestershire, as well as installation of renewables.
It was recognised that support for technology development is crucial and support for the low carbon economy is a key element of the local growth strategy. Finding out that the development of the HERU was taking place within the county was therefore great news for the programme.
The HERU is being supported by a grant from the programme to fund the trial phase, and it is hoped that this will help to bring the technology closer to commercialisation.
Grants through the programme have been very well received by local businesses, demonstrating the importance of funding this type of development. Many low carbon innovations such as this, can experience the 'valley of death' during their development but public funding can help prevent this and ensure the technology gets to market, a key aim of the programme.
Wychavon District Council has an Intelligently Green Plan which sets out actions which not only result in environmental benefits but also have a community or financial payback too. The council encourages partners and others to follow the same principles and this is why the HERU is something that the council is delighted to support.
Councillor Emma Stokes, Wychavon's portfolio holder for the environment explains: 'Wychavon recognises the potential for this technology to revolutionise the management of resources worldwide and bring significant environmental benefits.
'As this is a local business we are even more excited and had no reservations in offering our Civic Centre as a place where one of the field trials can take place.'
When the results of the field trial are known, they will inevitably throw up new questions, and it will be down to the partnership of commercial minds and public sector thinking to tackle those together.
The HERU clearly has massive potential, and all parties are working together to realise that potential.
Ruth Corrall is project manager at Worcestershire County Council and Vic Allison is deputy managing director at Wychavon District Council