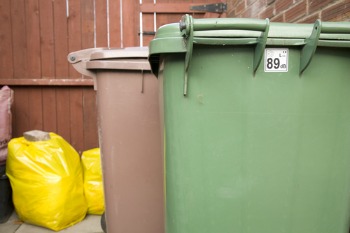 Union members at Veolia Sheffield have voted to strike over pay and what they characterise as 'ongoing attacks' to their terms and conditions.
The union GMB have reported that more than 80% of unionised refuse collectors at Veolia Sheffield have voted for industrial action in anger at a below inflation pay offer from the company which manages the council's waste services.
Strike action, which could affect more than 200,000 homes, will now take place on Monday November 1 from 06:30am until 10:30am, with further days planned for November and beyond.
'GMB members working at Veolia have taken huge risks working all throughout the pandemic to help keep Sheffield moving – dealing with record amounts of waste as people work from home,' said GMB organiser Lee Parkinson.
'It's time to value them properly for the work they do. Politicians lining up to thank them won't cut it; nor will a pay offer that amounts to a real terms pay cut.
'All they want is fair offer that at least keeps pace with their increasing cost of living and is not paid for with cuts to other terms and conditions. What they've been offered is an insult.'
A Veolia spokesperson said: 'Despite recent wage negotiations, we have received a notice of collective action from the GMB union.
'We continue to engage in ongoing dialogue with our colleagues and GMB representatives to resolve the matter, and we are working to ensure that any disruption to residents' waste and recycling services are minimised. We will provide further information to residents next week to explain any changes to bin collections.'
A recent study by the TUC found that refuse collectors have seen their pay drop by £1,519 in real terms since 2010.
Brighton & Hove City Council recently concluded a deal with GMB members working for the council's Cityclean service to settle an industrial dispute about pay and conditions.
GMB Scotland members employed by Glasgow City Council have also voted in favour of industrial action over their pay, which would see strikes across the city's cleansing service and schools during the COP 26.
Pay talks with COSLA, the umbrella body that represents each of Scotland's local authorities, have stalled. The council have offered an £850 flat rate to all local government workers – an offer which falls short of the £2,000 pay claim that was submitted by the joint trade unions GMB, Unison & Unite.
Chris Mitchell, GMB Glasgow cleansing convenor, said: 'The eyes of the world will be on Glasgow during COP 26, and our politicians now have a choice – will they fairly reward the frontline workers who got the country through the pandemic, or will they risk embarrassing the city and the country on an international stage?'
A spokesman for the council said: 'These are national, rather than local, pay negotiations and it is difficult to understand why this step has been taken while those negotiations remain ongoing.
'COP will undoubtedly be a busy and difficult time for the city and its residents. Holding this action only in Glasgow at this time will have disproportionate and unfair local impact in pursuit of a national campaign. We urge them to think again about the timing of this.'