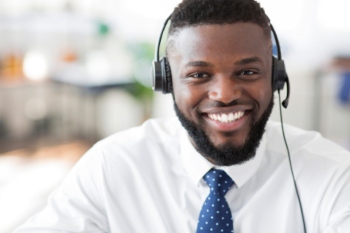 The pandemic has changed the way we interact with the world around us. An overnight channel shift in customer service has been accelerated by a growing need to engage customers in new ways. Organisations and governments offering vital services needed to rapidly ensure services continue and customers feel supported as dependency on digital channels and experiences grows.
As employees trickle back to the offices and public spaces open, the newly formed reliance on digital services will remain. Given that the public sector is one of the largest service providers in many countries, supplying quick and easy access touchpoints will continue to be essential. In response, we have seen new and innovative forms of communication evolve, which will likely continue as customer reliance on digital engagement grows.
Healthcare, welfare and tax are all areas where adaptation is obvious – the rise in video calls and apps, is now relatively commonplace and an accepted form of engagement. Meanwhile, hurdles such as security and privacy have been addressed to make way for flexible terms of engagement. With the loosening of restrictions and freedoms, the convenience of online services will dominate – and the public sector must not lose momentum.
Given the fundamental role government departments and local services play, combined with the complex environments in which they run, we lay out three simple steps around how large and complex agencies can better deliver seamless customer experiences. We suggest the focus on adaptability, digital channels and enhancing customer service.
Adapting to new ways of working: building resilience
Over the past 12 months, customer service organisations have experienced a shift to remote working, new working practices, office consolidations and relocations, adjusting technologies used and behaviours adopted to inspire trust and resilience. All of which have resulted in different employee expectations around work.'
Companies play a critical role in terms of aiding staff with this change and helping to build resilience across teams by implementing flexible working policies. Coupled with the rise of the gig economy and the fluid workforce, there is a growing societal trend of people changing roles more often and flexible outsourcing becoming a more popular decision. HMRC (HM Revenue and Customs), for example, has kickstarted the trend of flexible working contracts so that staff can schedule to work around their personal lives.
Teams will feel resilient through change if they are part of a flexible workplace where employee wellbeing is championed. Customer service can move from strength to strength as people are able to fit their jobs around their changing circumstances and are in a better position to provide a high-quality customer experience. Being adaptable to changing circumstances will help government services thrive, and mean customer needs are met with more agility. Recently, a market analysis on the future of customer service organisations has shown that the introduction of new modern technologies, online training and a buddy system has contributed towards a flexible workplace for agents.
Supporting the new digital audience
Today's customers expect quick, first-time answers and tailored support. This is no surprise as, over the past year, digital services have become a necessity for the home-bound customer. Lockdown meant that customer service shifted from an in-store solution or via call centres to low touch options such as webchat, where responses are almost instant.
Having a consistent, user-friendly, and accessible experience across digital channels has been important for governments and public bodies to ensure they are delivering their services seamlessly. By using technologies efficiently, government departments can keep supporting citizens and maintaining relevance in a world where digital-led experiences are the growing norm.
Going forwards, those in the public sector will need to continue to ensure that they are supporting capabilities for self-service, both within and across government departments so that customers receive the quick, first-time resolution they expect. For example, to provide essential services to the community while reducing social contact during the pandemic, many local governments have shifted to govService to digitise customer experiences. Through this platform, citizens have actively been redirected to online forms, self-portals and dedicated webpages to COVID-19 resources as a way to avoid customer service teams being overloaded.
Empathetic, customer-centric service
Overall satisfaction with customer service directly impacts how customers feel about using a government service. Providing a thoughtful and seamless customer experience is an evolution that requires care, connection, inclusive design and empathetic advisors.
With today's customer expectations being higher than ever in a health crisis, public sector organisations must ensure that they are responding to anxious and worried customers who require additional information, extra support and specific answers to navigate their new challenges. As a result of this shift, it is critical that advisors who are responding to queries with empathy and care are properly supported. One way of doing this is to keep a pulse on changing customer preferences and embed those new requirements to ensure service can be delivered.
The pandemic has made the digital divide more visible and clear and public sector organisations must ensure that the same level of care and help is provided to those who don't have access to digital channels, are not digitally savvy or have disabilities – to name a few. Public services must be designed with inclusivity and ease of access at their core, while delivery must guarantee needs are met.
The past twelve months have undoubtedly altered how governments and the public sector deliver experiences to citizens and customers. Yet, given the increased use of digital channels and the speed of technology, the need for impeccable customer service has never been higher. Over a year since the start of the pandemic, the adoption of flexible ways of working, increased self-service, and a greater focus on customer care will enable governments and public services to establish a strong advantage as they move forward in an increasingly digital world.
Paul Johnston is director and Leyla Delcorde is senior consultant at Capgemini