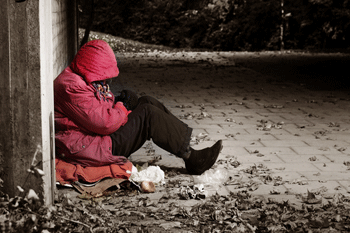 The Government today launched three new pilot projects aimed at helping rough sleepers into 'stable and affordable accommodation'.
The projects, located in Greater Manchester, Liverpool City Region and the West Midlands Combined Authority, will provide intensive support to people recovering from complex health issues.
According to Homeless Link, 4,751 people are estimated to be sleeping rough on any one night.
The charity calculated there was an increase of 15% from 2016 to 2017, while since 2010 rough sleeping estimates show an increase of 169%.
Andy Burnham, the mayor of Greater Manchester, yesterday described the homelessness problem as a 'humanitarian crisis'.
First announced in last year's Autumn budget, these new pilot projects will be based on Housing First.
In Europe, Housing First projects have been successful at ending homelessness for at least eight out of 10 people in the scheme.
This is compared to hostel-based accommodation which has resulted in between 40% and 60% of users with complex needs leaving, or ejected, before their homelessness is resolved.
'The evidence shows Housing First has an incredible rate of success in providing rough sleepers with the support they need to get off the streets and to rebuild their lives,' said housing secretary James Brokenshire MP.
'We are investing over £1.2bn to break the homelessness cycle, but we know there's more to do to help people off the streets for good.
'This is why the government is leading the way in implementing Housing First in England.
'I believe these pilots will have a positive impact in their areas and I look forward to hearing about their successes over the coming months.'
Responding to the announcement, Shelter's CEO Polly Neate said: 'With rough sleeping at it's highest in a decade this action to help people off the streets and into a safe, secure and affordable homes has never been needed more.
'Housing First offers a unique opportunity to tackle rough sleeping by moving people on the streets into a permanent home with the support to help them keep it.
'But it's absolutely crucial that this is part of much broader plan from the government to fix our housing emergency. It urgently needs to get on with the job of building many more genuinely affordable homes and make sure housing benefit reflects the cost of renting.'