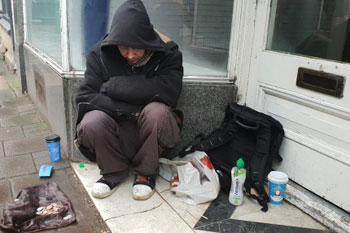 Homeless veterans in Yorkshire are set to receive more support as the mayor of the Sheffield City Region announces £90,000 for a local homelessness charity.
Mayor Dan Jarvis said the money, which is from the Government's Homelessness Veterans Fund, would be used to extend the work of the Help 4 Homeless Veterans charity to Rotherham and Sheffield.
The funding would allow for additional training for front line staff at the charity, ensuring consistency of support and information to veterans and their families, according to Mayor Jarvis.
Work will also be undertaken to understand what the current gaps in help and support are and how these can be tackled.
Figures released by the Office of National Statistics earlier this week show that more than 720 homeless people died in England and Wales in 2018 – representing the highest year-on-year increase since records began.
According to these same figures, more than 1,700 homeless veterans were identified by local authority housing services, making up 0.72% of homeless cases.
However, the campaign No Homeless Veterans estimates that around 3,500 veterans could be missing out on council housing support.
'Most service leavers go on to achieve great things in civilian life, using the invaluable experience and transferable skills gained in the military. But as someone who had the honour of serving in the Armed Forces myself, I understand the challenges some people can face when leaving the Forces,' said Mayor Jarvis.
'That's why I'm using the small amount of funding that has been provided by the Government to boost the work of an important charity based here in South Yorkshire.
'In one of the richest economies in the world, no one should be without a home, especially those who've risked their life serving our country. It's time that we recognise our service men and women in a manner that befits their sacrifice and better support them in the transition from military to civilian life.'