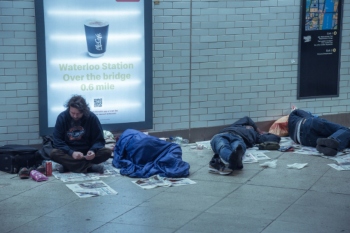 London boroughs are spending an extra £50m on homelessness services due to Covid-19, new figures have revealed.
London Councils said boroughs already spend around £1bn a year on homelessness and rough sleep provision, and has warned these costs are unsustainable.
It argues there should be 'no return to business as usual' on homelessness after the crisis. It is calling for an immediate boost to local authority funding to meet the needs of homeless people.
It also wants a twelve-month suspension of no recourse to public fund (NRPF) restrictions to unlock financial support for those who would otherwise return to rough sleeping.
Cllr Darren Rodwell, London Councils' executive member for housing & planning, said: 'Among our concerns are the continuing uncertainties over how the government expects support to be provided to rough sleepers who have no recourse to public funds.
'A summer spike in homelessness would be extremely damaging to London boroughs' finances. Even before the crisis, boroughs weren't receiving enough funding to meet their homelessness costs. We're now spending an extra £50m on homelessness and rough sleeping due to Covid-19 – an unsustainable situation has become even more unsustainable.'
Photo: Ajit Wick/Shutterstock.com