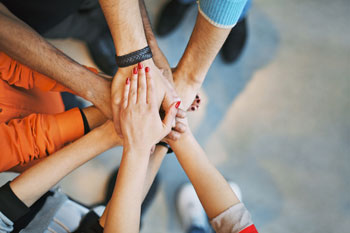 Over 100 organisations have called on the Government to do more to support a community-powered economic recovery which they argue would help revive local areas hit by the lockdown.
A new report from Locality, a national network dedicated to supporting community organisations, has emphasised the crucial role that local groups have played in meeting community need and supporting people during the Coronavirus crisis.
The report argues that community organisations are often quickest to mobilise and are key to delivering emergency support. It characterises such organisations as the 'glue' linking mutual aid groups with private and public sector responses.
Locality recommends expanding the Community Ownership Fund to capitalise community organisations by leveraging Dormant Assets and other funding to establish a £1bn investment plan for community assets over the next five years.
It also proposes the Government provide £500m of revenue funding to grow existing community organisations and establish new mutual aid groups.
At the beginning of the coronavirus crisis local groups were provided with more procurement flexibility to encourage collaborative working with suppliers. Locality called for this to be spread across public sector contracting authorities through further Cabinet Office guidance.
Over 100 organisations contributed to the report, with input from community organisation chief executives and council leaders from across England. It includes seven in-depth case-studies with groups in Berwick, Bristol, Coventry, Grimsby, Hackney, Manchester and Thetford.
'We were able to mobilise a response to the coronavirus so quickly because of our strong networks locally,' said Danny Whitehouse, the chief executive of the Charles Burrell Centre in Thetford.
'We've formed deeper partnerships with our key local partners: our town, district and county councils, mutual aid volunteer groups, other voluntary sector organisations, our membership network, Locality, and our funding partners.
'As we look to recovery, we hope this, combined with the new wave of community spirit we've seen, will equip us to deal with the social and economic challenges that are coming down the track.'
Amy Kinnear, the chief executive of the Southmead Development Trust, Bristol, commented: 'Our role is vital as we have established relationships with all the GP practices, adult social care and through the community so we have been able to quickly identify those at risk, link services up and become a trusted and known source of advice and support.'
'We cannot overstate the role community organisations have played in providing and mobilising support during the coronavirus crisis,' said Tony Armstrong, the chief executive of Locality.
'They have taken a lead in the distribution of food, medical supplies, and hot meals, provided a friendly voice for isolated people and delivered ongoing support for people in crisis.
'The challenge we face now is ensuring that these groups are given the voice, power and resources they need to support their communities through the recovery from the pandemic.
'Rebuilding our economy is going to be a national priority, but we have to learn the lessons of failed economic policies over several decades.
'Our recommendations for devolution of power and resources to communities are radical, but common sense. They would deliver much of the Prime Minister's ambition to level up the country, build self-reliant and resilient communities and help us bounce back stronger from this crisis.'