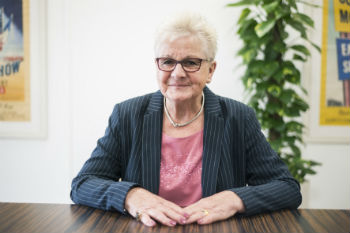 Civil service workers are shockingly under-appreciated and it's time to change that, says Heather Glanville, Association Chair at Boundless, the membership club for public sector and civil service workers.
As Public Service Day on 23 June approaches, I've been reflecting on how easy it is to forget the huge contributions that people who work in the public sector make to society and to supporting our lives in many ways every day of the year.
Not the least are the UK's two million local government workers who keep our cities and towns running smoothly, cleanly, healthily and safely – despite year on year funding cuts.
Public Service Day was officially launched by the United Nations as long ago as 2003, but sadly it has been largely overlooked in the UK. It's time to put that right and place the country's hard-working public servants in the spotlight.
On Sunday, Boundless is asking the great British public to say 'thank you' to the nation's civil service workers.
Whether it's a swift but nonetheless sincere thank you to a fleeting acquaintance or a larger gesture of heartfelt thanks to someone you truly admire, the resulting feelings of value and appreciation can do wonders for the soul – regardless of whether one is giving or receiving the thanks.
Local government employees too often go unnoticed by the general public, with many working extremely hard behind the scenes to keep us safe and healthy.
Boundless recently discovered that 70 per cent of civil service workers don't feel appreciated enough by the British public. That's no surprise when our research also showed that civil servants have gone an average of 90 days without thanks – and 29 per cent report they have never been thanked in their career!
As a country we certainly have our challenges, but we take it for granted that we live in a society where we are generally looked after - but where would we end up without gratitude for those who care for us? Pretty lost in my opinion.
As our research shows, a simple 'thank you', whether that is online, in a letter or in person, can go a long way.
More than a quarter of civil service workers said being thanked by the public would make them happier in their job – higher than the result for working fewer hours. After all, we all need to feel appreciated.
Join us this Public Service Day by thanking your colleagues and local public service workers who make a difference in your life – from the teachers inspiring your children, the carers looking after your parents, the refuse collector who keeps your street clean, the civil servant at the job centre and the IT technician who sorts the Wi-Fi in your government office – all are deserving of gratitude.
To join the conservation and share your stories as to how public sector workers have supported you, please use the hashtags #PublicServiceDay #timetosaythanks and include @bemoreboundless.
Heather Glanville is the association chair at Boundless, the membership club for public sector and civil service workers.