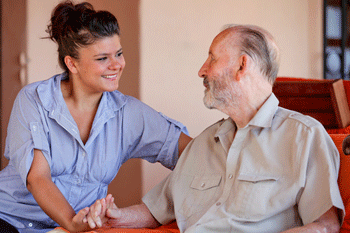 Care provided to vulnerable people at home is being affected by cuts and privatisation, according to the findings of a new report by Unison Scotland.
The report, entitled We care, do you?, found four out of five carers felt emphasis was now on 'quantity rather than quality' of care, with 88% saying they were limited to specific times for client visits.
Over a quarter (26%) of carers also said they were not paid for their travelling time, with 43% saying they regularly work longer than their contracted hours.
Stephen Smellie, Unison Scotland's depute convener, said: 'This report highlights the shocking truths of a dedicated, caring workforce who are being stretched to the limit, often resulting in their own stress and ill-health.
'They juggle with travelling time and running late, to ensure their tasks are completed as best as they can, some often go back in their own time to make sure their clients' needs are met.'
A survey of local authorities in Scotland also revealed that 24 out of 31 councils said they used a mixture of in-house and contracted-out staff.
The trade union is calling on local authorities to sign up to its Ethical Care Charter for home care services, which commits councils to buying home care only from providers who give workers enough time, training and a living wage.