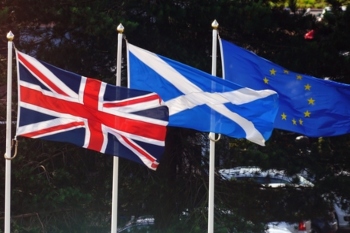 The Scottish Government has said it has been short-changed by its allocation of the UK Shared Prosperity Fund.
England will receive £1.58bn, Scotland £212m, Wales £585m and Northern Ireland £127m over the next three years.
Funding has been allocated according to an index of need taking into account local population data, unemployment and income levels.
The Department of Levelling Up, Housing and Communities (DLUHC) said Scotland and Wales and each Local Enterprise Partnership (LEP) area in England will receive the same in real terms as under EU funding.
Northern Ireland will draw up a single investment plan for the country.
However, the Scottish Government has argued £162m per year would be needed to replace all EU funding streams.
Business Minister Ivan McKee said: 'The UK Government's Shared Prosperity Fund fails to deliver replacement funding which was promised to Scotland.
'The UK Government has undermined devolution by failing to give the Scottish Government a decision-making role - which ultimately fails to meet the needs of Scotland's communities.'
DLUHC said the fund should be used to regenerate high streets, tackle anti-social behaviour and crime, or boost employment.
It added the fund would be 'much more flexible and locally-led' than the European Social Fund and European Regional Development Fund it replaces, and that 'bureaucracy will be slashed'
Decisions will be 'made by elected leaders in local government, with input from local members of parliament and local businesses and voluntary groups'.
Although pledges have been made to match EU funding, the UKSPF will provide £400m in 2022-23, only reaching £1.5bn in 2024-25.
DLUHC said: 'Previous EU programmes ramped up and down, and areas will continue to receive EU funding until the end of 2024.'
Henri Murison, director of the Northern Powerhouse Partnership, said: it 'doesn't look as bad as it might have been' for the north, but added: 'We can't escape the fact that this is a huge drop in funding available for economic development. There is no longer an overlap between funding periods, which means less money overall, nor will regions get seven years of certainty as they did with EU structural funds.'
A total of £559m from the fund will got to a new adult numeracy programme, Multiply, providing free personal tutoring and digital training.
Levelling Up Secretary Michael Gove said: 'The UK Shared Prosperity Fund will help to unleash the creativity and talent of communities that have for too long been overlooked and undervalued.
'By targeting this funding at areas of the country that need it the most, we will help spread opportunity and level up in every part of the United Kingdom.'