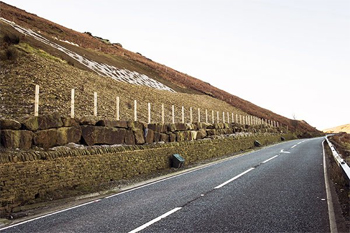 Transport secretary Grant Shapps has confirmed £93m for three major road upgrade schemes across the country, including two schemes funded as part of the major road network (MRN).
Despite making a set-piece announcement, the DfT did not initially specify which funding stream the cash for the projects would come from.
More than half the new cash will be spent in the North, with up to £56m for a 'dramatic overhaul' of the Kex Gill section of the A59 in North Yorkshire, which the Department for Transport (DfT) said will significantly improve connectivity between of Harrogate and Skipton.
A proposed new road will divert traffic away from the landslip-prone Kex Gill part of the route (pictured).
North Yorkshire County Council will contribute £4m to the £60m scheme. Council leader Carl Les called the confirmation of funding 'an important milestone towards bringing this much-needed project to fruition'.
The council said its planning committee has resolved to support the planning application for the realigned route but that decision is subject to the outcome of a third party request to the communities secretary to call in the application.
Sandwell MBC will receive £24m MRN cash for a scheme that aims to reduce congestion at Birchley Island, situated at the intersection of the M5, A4123 and A4034.
The council is contributing the remaining £5.7m to the £30m scheme, which will widen the existing carriageway on the roundabout and introduce additional lanes, with 'improved facilities for greener travel at the intersection'.
West Midlands mayor Andy Street said: 'Birchley Island has been notorious with Black Country residents for years due to the amount of congestion that builds up, and so I am delighted to have helped secure the funding we need from Government to finally give the roundabout a major overhaul.'
Hampshire County Council will receive £13m MRN funding for upgrades to the Redbridge Causeway bridges over the River Test, which provide access for local businesses and hauliers to Southampton docks, and link the city to the New Forest.
The DfT said the funding announcement follows ministers' agreement to speed up delivery of the proposed maintenance work.
The MRN funding pot appears to have been significantly scaled back in the Spending Review. DfT guidance for funding bids state: 'The Department's contribution for MRN interventions will normally be between £20 million and £50 million, although the lower threshold will not be applied rigidly.'
The cash is for the third and final phase of repairs to the causeway, with Hampshire County Council making up the remainder of the costs of this phase of £2.4m. It said that around £25m worth of repairs will have been made to causeway once all the works are complete.
Rob Humby, deputy leader and executive member for environment and transport, described the announcement as 'fantastic news for the area's economy', adding: 'I hope it is also a signal for our forthcoming partnership bid for a Freeport.'
For more articles like this, visit Transport Network