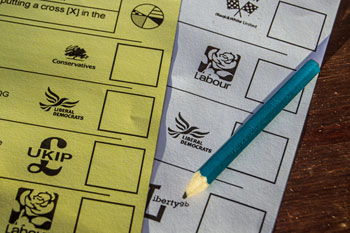 All immigrants with a legal presence and proven residence should be given the right to vote, researchers argue in a new report.
New research from the School of Geographical Sciences at the University of Bristol found if all of England and Wales 2.3 million immigrants had been able to vote in the 2015 general election, up to 95 parliamentary seats would have been won be a different party.
The researchers argue that as legal immigrants contribute to the UK economy, they should all have the right to vote as they have a clear stake in the decisions made by the UK Government.
Lead author of the study, Dr Sean Fox, said: 'Giving all resident adults in the UK the right to vote would make the system more truly democratic than it is today. It would change the electoral map, increase the relative voice in Parliament of those living in large cities, and change the incentives of politicians seeking office and parties looking to form a government.
'It could mean the two main parties may choose to temper their anti-immigration rhetoric in order to appeal to these voters. On the other hand, competitive marginal parties such as the Liberal Democrats, or new political entrepreneurs, may target urban areas with large immigrant voting blocs. In closely fought elections, these parties could hold the balance of power if a coalition were necessary.'