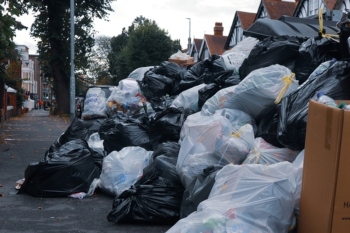 Unions have warned of more local government strikes.
GMB general secretary Gary Smith said industrial action would follow unless care workers were given a pay rise, adding: 'If employers won't work with us, if councils won't address equal pay, then we have to be prepared to take action.'
Councils across London already face uncollected bins as workers serving some boroughs are voting on whether to strike, with more than 100 refuse staff in Croydon due to walk out from today for three weeks 'as a last resort' in a dispute over 'poverty pay'.
Bexley LBC's Unite members may also strike, as well as GMB members collecting waste in Wandsworth while Coventry HGV drivers have been striking for four months.