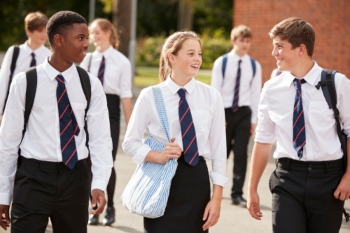 A majority of school leaders who responded to Ofsted inspectors have warned that financial pressures are their 'biggest concern'.
A new report from Ofsted has revealed that more than half of 219 head teachers who responded to the inspectors' questions cited 'financial pressures' as their main concern and almost 80% of respondents said these pressures were one of their three biggest concerns.
Forty-two per cent of primary school head teachers and 48% of secondary school head teachers who responded to Ofsted predicted that their school would be in debt by the end of the 2019–20 budget year.
Seventy-six per cent of primary head teachers and 58% of secondary head teachers thought that reductions in local authority services had led to a 'major impact' on financial pressure in their school.
Despite these financial pressures, however, Ofsted grades have improved, according to the report. The proportion of schools that are good or outstanding has increased between 2010 and 2019.
Making the Cut, which aims at giving an overview of the financial challenges faced by schools, shows that while overall school spending per pupil grew rapidly at around 5% per year in real terms, it has fallen by about 8% per pupil between 2009–10 and 2018–19.
However, looking over a longer period, the report notes that total school spending per pupil is still about 14% higher than it was in 2003–04.
Since 2015, schools have been faced with additional cost pressures and uncertainty over their finances, according to Ofsted.
These pressures include staff pay increases, raised national insurance contributions, increases to the cost of teacher pensions, the apprenticeship levy, and the cost of special educational needs and/or disabilities (SEND) provision.
Ofsted found that schools are spending their money on a wider range of activities than they used to because of increased pressures on other Government-funded services. Inspectors also learnt of funding disparities between similar schools located in different areas.
The Government's national funding formula (NFF) has been brought in to address funding disparities. However, full implementation has been delayed until 2021 and schools are currently operating on a 'soft' NFF introduction.
The gradual introduction of the NFF means, according to Ofsted's research, that in 2018–19 41 of 150 local authorities were using funding settlements that mirror their funding plans 'almost exactly'. Another 73 had moved their funding plans 'closer' to what is proposed.
In this financial context, a minority of schools have not been balancing their books, inspectors warn.
Twenty-eight per cent (260) of local authority maintained secondary schools were in debt in 2018–19. Of these, their average debt was over £500,000. Eight per cent of local authority maintained primary schools were in debt in 2018–19.
According to Ofsted's findings, those schools that have experienced financial pressure have taken various actions in response, including reducing the numbers of teachers and other staff, reducing spending on school premises and learning resources, and asking for parental contributions.
The Government has committed to increasing funding for schools by £7.1bn by 2022– 23, with a rise of £2.6bn in 2020–21. The minimum per pupil amount for 2020–21 will increase to £3,750 for primary schools and £5,000 for secondary schools.
This includes over £700m more in 2020–21 compared with 2019–20 funding levels to support children and young people with SEND.
However, the inspectors warn that the schools that will benefit most from these minimum funding changes will be those that have less challenging intakes and therefore do not have the characteristics associated with additional funding under the NFF.