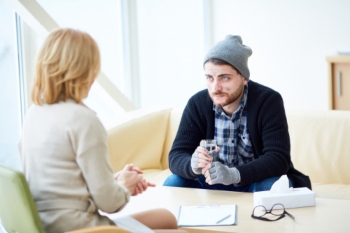 When it comes to tackling homelessness local authorities face a huge challenge – dealing with a substantial increase in demand and responsibilities at the same time as possessing significantly fewer resources.
Austerity has led to a significant drop in funding for homelessness services across England.
Research released earlier this year indicated that council spending on support for single homeless people in England fell by 53% between 2008-9 and 2017-18, meaning that local authorities in England are now spending almost £1 billion less a year on these vital homelessness services compared to ten years ago.
At the same time local authorities are having to cope with increasing dmand for homeless services with rough sleeping rising by more than 160% over the past decade and the number of households in temporary accommodation increasing by 5% to 83,700 – the highest level for more than 11 years.
'Alternative giving' is a growing method employed by councils to enable the public to actively participate in tackling homelessness by donating to a fund which directly helps rough sleepers and people threatened with homelessness.
Manchester City Council has created a hugely successful alternative giving scheme called Big Change. Run in partnership with Riverside and other partners, Big Change has so far seen local businesses and people donate money, items and time.
Since late 2015 it has raised nearly £300k and distributed over 750 individual grants.
One of the key features of 'alternative giving' which makes it so successful is that the money goes straight to those who need it.
Donating in this way is local and immediate, which appeals to donors wanting to help people in their community and know that overheads are kept to a minimum – which are covered anyway when gift aid is claimed.
The success of this has led to Riverside rolling out a sister scheme with Greater Manchester metro mayor, Andy Burnham called Real Change in three other boroughs of Greater Manchester – Oldham, Rochdale and Wigan.
In Wigan Borough, Real Change has raised more than £30,000 which has helped to end or prevent homelessness for 47 people and counting. This has been down to local fundraising by partners such as Wigan Primary Schools, online donations from the public and support from businesses like the Fusion 21 Foundation.
Alternative giving schemes like Real Change and Big Change help reduce rough sleeping and homelessness by covering essential costs for people at pivotal points to prevent them from becoming homeless or to move them on from the streets or homeless shelters.
They work to transform people's lives by making small but crucial interventions at the time when people really need additional support.
The scheme has become a lifeline for people who are homeless by helping to provide small amounts of money to help them move away from the streets or to avoid homelessness in the first place.
The grants distributed by Real Change and Big Change pay for things like identification to secure accommodation or a job offer, clothes for a job interview, or even a deposit for a home.
The scheme exists to ensure that people do not become homeless or cannot escape homelessness because of small amounts of money.
Providing this support when it is needed most can help to get people off the streets and back into a home, back into work, reconnecting them with their families, and giving them hope for a better future.
More than a third of beneficiaries in Wigan and Leigh have been rough sleeping or staying in a night shelter at the point of their application to Real Change, with none left on the streets when followed up after one month.
The success of this has led us to roll-out out Real Change in Guildford where it has been embraced by Caroline Reeves, the leader of Guildford Borough Council.
Our experience has taught us that certain elements are key to making 'alternative giving' a success:
• Business support: Significant, deep and on-going engagement with local businesses can help to attract financial and staffing resources from businesses which want to make a difference in their community. Businesses can also work to share roles within their organisation to ensure an on-going commitment which individuals can find more difficult to maintain.
Local businesses can also support the initiative with their own expertise such as marketing, advertising and social media support or by displaying signs and collection tins for the initiative.
Over and above this businesses in Guildford have provided wider support to help tackle homelessness including the supermarket Sainsbury's providing CV writing and interview training to homeless people from Riverside's hostel in Guildford.
• Communication: Alternative giving should communicate the positives of tackling and preventing homelessness in the local area rather than focusing on preventing the negatives of homelessness. People are more likely to donate when they know their donation is playing a part in transforming the life of someone in their community and enabling them to get into a home or get a job. Focussing on negative associations with homelessness inhibits donations.
While councils are key partners, it is also important that the campaign is a partnership of everyone who wants to tackle homelessness in an area, and be branded as such. This gives everyone equal input, and encourages the public to get involved in a solution rather than criticise the council for not sorting it out with its reduced funding.
• Use community resources: Utilising community resources to help raise further awareness of alternative giving is a great way to spread the message and encourage support from other businesses. This can include local businesses sharing positive stories on their social media feeds, businesses donating their time and experience to help launch and sustain alternative giving. Alternative giving can be a real power for good helping to bring communities together, enhancing cohesion, with people benefitting from working towards a shared goal to make a difference to people in their community.
• Collaboration: Real Change is a way of bringing all an area's homelessness providers together, working in a more joined-up way to a common goal. Ensuring homeless provider regularly communicate with each other, share best practice, and identify problems before they become more serious helps to deliver better outcomes for homeless people.
Ketan Patel is area manager at Riverside
Today is World Homeless Day - for all the latest news and analysis of this issue please visit www.localgov.co.uk/Homelessness