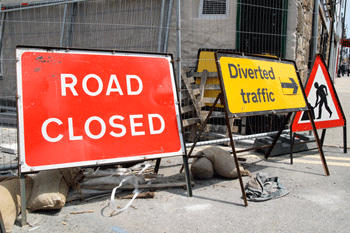 Local authorities have been praised for 'vastly enhancing' their communication about roadworks in their areas over the past three years.
A new report from Socitm, the society for IT/digital leaders, has shown councils have improved their performance scorecard for online roadworks communication from 48% three years ago to 85%.
The major reason for the improvement, according to Socitm, was that almost all of the councils surveyed use the roadworks.org mapping system as 'the primary or only route to access details of planned roadworks in the area.'
'The last time we conducted this test was in 2014, when only 48% of county councils achieved the Better Connected standard – the equivalent of three or four stars under our current scoring arrangements,' said the Socitm report.
'This time we have 85% getting 3 and 4 stars, 55% achieving the top mark.
'The difference is that most sites now embed the roadworks.org map and facilities into their websites to provide the information covered by this test, and individual and overall results are greatly influenced by how well this service has been integrated into the website.'
Among those whose best practice was highlighted were North Yorkshire, Northamptonshire, Devon and Hertfordshire County Councils, where the additional information provided on closures and diversions was particularly commended.
These authorities use Elgin's Traffic Management App to plot their official closures and diversions and syndicate the information through hundreds of other web services, social media and informing sat-nav and in-car navigation services.
Shane O'Neill, chairman of Elgin, said: 'The use by over 95% of local highway authorities of roadworks.org is one of the best examples of local government shared services that exists. Over 17 million self-served roadworks enquiries were answered in the last twelve months through roadworks.org and its network of embedded sites.'
Visits to council websites about highways represent around 2-3% of all visits, and are part of the wider 'mobility' category (including parking, streetworks, transport and buses) that is the single biggest category of council web visits after rubbish and recycling.