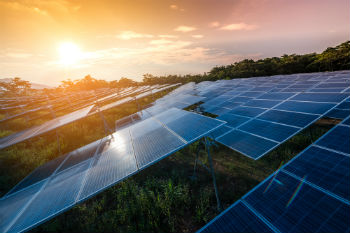 Forest Heath District Council's solar farm has generated more than £1.3m of income in its second year enabling the authority to plough over £370,000 back into council services.
The council purchased the £14.5m solar farm in 2016 based on a 25-year, independently produced business model which indicated how the solar farm is likely to perform.
Figures for the 12 months to the end of July show that it generated 12,258MWh — enough to power around 3,300 homes and offset the carbon dioxide emissions from 1,500 cars.
This is sold on the National Grid and has raised the local authority £1.3m. It has also helped Forest Heath establish itself as a carbon neutral council.
After taking into account the operating costs and recouping some of the capital used to buy the solar farm, this means it has generated £372,300 towards the funding of council services, compared to a predicted £330,000.
Cllr Stephen Edwards, cabinet member for resources and performance at Forest Heath District Council, said: 'I am proud of this investment and what it will help us achieve on behalf of our communities for many years to come.
'The business case for investing in the solar farm looked at independent data on how it was likely to perform, and it was this that gave councillors of all political persuasion, the confidence to vote in favour of the investment.
'What we are now seeing is that the solar farm is performing exactly how we said it would.'