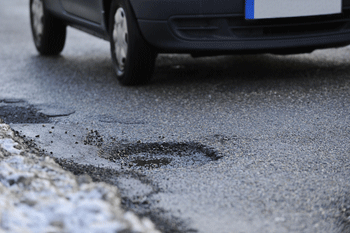 Councils paid out £3.2m in compensation to motorists for pothole damage caused to vehicles last year, research reveals.
The 200 local highways authorities in England, Scotland and Wales who responded to freedom of information requests by the RAC Foundation dealt with 48,664 compensations claims over the 2013/14 financial year.
Surrey, Essex Kent and Hampshire are thought to have dealt with the highest number of claims in Great Britain over the past twelve months.
Yet campaigners warned this figure marked only 'the tip of the iceberg' and urged the Government to raise council funding for road maintenance.
The Department for Transport (DfT) has allocated a record £6bn to town halls for the next six years to fund pothole repairs and local road maintenance.
Research from the RAC Foundation found councils refused the majority of claims, agreeing to pay out in less than a quarter of cases.
While the number of compensation claims rose by over 2,500 on 2012/13, the average payout for a successful claim fell to £286.
Professor Stephen Glaister, director of the RAC Foundation, said 'The fundamental problem lies not at the doors of our town halls but with central government. Despite occasional one-off grants related to periods of harsh weather, they are simply not giving councils enough money to keep their road networks up to scratch.
'This is not an anti-HS2 argument, but how can a government commit to a £50bn scheme like that when a vital infrastructure network on which nine out of ten passenger miles takes place crumbles away? This is about prioritisation and our roads should be at the top of the list.'
Responding to the report, Labour's shadow transport secretary, Michael Dugher, said: 'Planned spending on local road maintenance in real terms will be less in 2020 than it was in 2010 and over 2,220 miles more of our local roads now need maintenance work compared to 2010. Road users have had enough of the Government's failure to fix pothole Britain.'
A DfT spokesperson said: 'Good local roads are vital for our transport network and it is for local councils to maintain them properly – this Government has provided over £4.7bn since 2010, an increase of £1bn compared to the previous parliament.
'As part of our long term economic plan, we will also spend a further £6 billion between 2015 to 2021 providing councils the certainty they require to plan how they will keep their roads well maintained.'