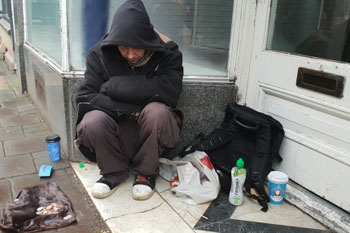 Local authorities are braced for a surge in the number of homeless people.
Based on survey responses from 148 local authorities in England, the annual homelessness monitor published by the charity Crisis found 94% of councils expect to an increase in people made homeless.
The report read: 'There is acute concern about a potential tidal wave of new homelessness as the COVID19-induced recession takes hold, Brexit causes disruption to trade and various temporary labour market, welfare and housing protections are scaled back or ended during 2021.'
People judged as threatened with homelessness fell by a third after the first lockdown compared with the first quarter and those in the most severe category of homelessness fell during 2020 from 220,000 to 200,000 following a steady increase over the previous eight years.
The need for social distancing has resulted in a shift away from communal accommodation, although it is still used by half of councils.
However, a majority of councils surveyed said it had become harder to place homeless households in both social and private sector accommodation during the pandemic.
The report read: 'A pressing priority for many local authorities remains finding effective move on arrangements for people temporarily accommodated during the COVID-19 crisis.'
A priority longer term is a large expansion of housing supply, particularly in the social sector, and raising of the local housing allowance.