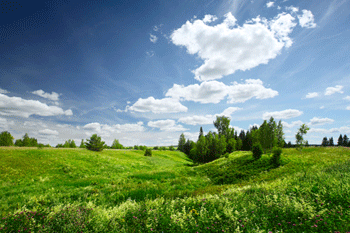 South Bucks District Council has criticised their southern neighbours in Slough for publishing proposals to build on green belt land within the former's boundary.
Slough Borough Council has published a draft report which outlines plans to build a garden suburb on the green belt north of their area in South Bucks.
Slough needs to build 20,000 houses to meet demand. However, despite exploring options since February, they have been unable to find any suitable alternative to expanding north into rural South Bucks.
The borough council commissioned the consultants Atkins to explore this latter option more thoroughly and they shared the resulting report with South Bucks and other local authorities affected.
In response, the district council argued the plans were illegal and threatened to take out an injunction to stop Slough publishing the findings.
Slough believed they had overcome this dispute by adding a comment at the beginning of the report noting the objections from neighbouring councils.
'What we've done now is purely publish for information a draft report by our consultants — not endorsed by us — just showing how this development could take place so that we can have a proper grown-up discussion about it and begin to engage the landowners as well as other interested parties,' said Paul Simpson from Slough's planning department.
However, South Bucks has 'expressed disappointment' at the decision to publish the Atkins document.
South Bucks District Council's deputy leader and portfolio holder for sustainable development, Cllr Nick Naylor, said: 'This report has been published against our better advice.
'It could totally mislead readers and give them an entirely incorrect impression that Slough Borough Council has found a solution to its housing need shortfall in South Bucks. It has not.
'There is no evidence to support Slough Borough Council or Atkins' position while South Bucks District Council has appropriately considered a northern extension option and have rejected it based on our own sound evidence and national planning policy.'
Cllr Naylor accused Slough of not following 'due processes' in producing the report before adding South Bucks 'fundamentally disagree with the basis on which it has been brought forward, its timing and its findings.'
Mr Simpson said he believed one of the fundamental points of disagreement was that Slough has not shown the 'exceptional circumstances' required by law to justify building on green belt land.
'We know it's in the green belt. We know we shall have to show very special circumstances…We'll do that at a later stage,' he said.
However, Mr Simpson stressed that there was no room within Slough's urban area for more housing, particularly in light of the projected third Heathrow runway and other town centre developments. Expansion southwards was also not an option because of the M4, he added.
'Nobody has been able to come up with an option that shows we can accommodate all of our development within our urban area,' he continued.
'It's not just housing. We're meant to have 160 hectares of new employment land which we can't do either. There is a limit to what we can do within the urban area.'
'We will, under the Duty to Co-operate, continue to work with Slough to help them find a solution to their housing needs where we can, but all evidence to date points to the fact a northern extension of Slough cannot be the answer,' concluded South Bucks' Cllr Naylor.
'That being the case, South Bucks members will continue to vigorously defend this strategic part of our green belt, and protect this area from inappropriate development.'
For more on green belt developments check out our features here and here.