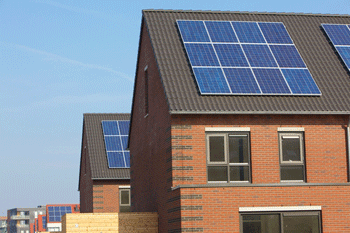 Councils could retrofit over 1,000 homes a day with energy efficiency measures by 2030 with the right investment and powers, a report has argued today.
The Local Government Association (LGA) has unveiled a new plan that would enable councils to retrofit 3.49 million homes within the next ten years, saving £698m per year from energy bills.
The report also finds warmer homes and buildings would reduce costs to the NHS by £1.9bn every year, and support the creation of almost 3,000 new jobs.
In order to achieve this, the LGA is calling on the Government to invest £12.2bn to give councils the long-term funding to decarbonise building stock, deliver clean energy projects and reduce greenhouse gas emission from transport.
It is also calling for a new climate change partnership between central and local government.
Cllr David Renard, LGA environment spokesperson, said: 'This report sets out the significant strides we can take to reducing carbon emissions with the right investment and resources for councils in the Spending Review, which would also save millions on energy bills for households and businesses.
'From decarbonising building stock, reducing the number of car journeys and delivering clean energy projects, councils have influence over a third of emissions from their areas and have a pivotal role to play in addressing the climate emergency.'