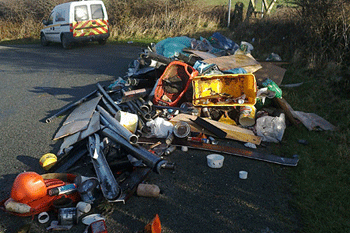 Walsall council is considering trialling a 'free skip service' for the deposit of household bulky items.
The local authority is looking at new ways to reduce fly-tipping and the amount of public money spent on clearing it up.
Fly-tipping cost Walsall tax-payers in excess of £426,000 last year.
In England as a whole, there were 1,002,154 fly-tipping incidents between 2016-2017. The total clearing cost was £57,667,483.
As well as trialling a free skip service, the West Midlands council is also considering extending the opening hours of its Household Waste Recycling Centres and providing a free collection of bulky household items.
They are also looking at increasing the level of reward leading to successful prosecutions for fly-tipping from £100 to £500.
'Dealing with fly-tipping is a high priority for Walsall Council — in April to June alone this year, 897 fly-tips were recorded,' said Louise Harrison, portfolio holder for clean and green.
'We're planning to trial a number of initiatives to make it easier for our residents to legally dispose of their waste. But if they don't, our stance is one of zero tolerance.'