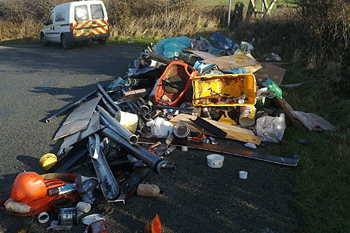 Local authorities must adopt a 'zero tolerance' policy on fly-tipping, union says as a new study reveals nearly £60m was spent in England clearing up in one year.
An analysis of data about 47 councils in the East of England has found there were 75,447 incidents of fly-tipping in 2016-17, costing a total of £4,339,536 to clear up.
In England as a whole, there were 1,002,154 fly-tipping incidents between 2016-2017. The total clearing cost was £57,667,483.
The analysis, carried out by GMB London, using data from the Office of National Statistics (ONS), revealed that in the East of England, Peterborough was the council with the most fly-tipping incidents.
There were 8,186 cases of fly-tipping between 2016-17, costing the council £461,285 to clear up.
Other councils with high amounts of fly-tipping incidents during this period also included Great Yarmouth with 7,993 incidents, costing £470,443 and Norwich with 5,264 incidents, costing £272,586.
'Government and local councils have to be more proactive in dealing with fly- tipping as new figures show that in England in 2016/17 there were over a million incidents and cost £57,667,483 to clear,' said Warren Kenny, GMB Regional Secretary.
'There needs to be better education on the costs of dealing with the problem and how people can dispose of rubbish and unwanted items properly.
'Councils must invest in easy to access recycling and disposal facilities for residents to use and offer accessible collection schemes for bulk items.
'Finally, councils have to firmly clamp down on fly-tipping by larger fines, investment in surveillance equipment and rigorous investigation of incidents and follow up action.
'Some councils have a poor record on this which encourages an attitude of impunity. We need a policy of zero tolerance with action against fly-tipping on all fronts at all times.'
Last January, the Government proposed giving councils the powers to apply Fixed Penalty Notices to fly-tippers — a move welcomed by the Local Government Association (LGA).
However, the LGA also called on Whitehall to ensure courts could give fly-tippers 'hard-hitting fines for more serious offences.'
'We were pleased the Government responded to our call for councils to be able to apply Fixed Penalty Notices to fly-tippers – and this was a big step in the right direction,' said Cllr Martin Tett, the LGA's environment spokesman.
'But when they take offenders to court, councils need a faster and more effective legal system which means fly-tippers are given hard-hitting fines for more serious offences.'