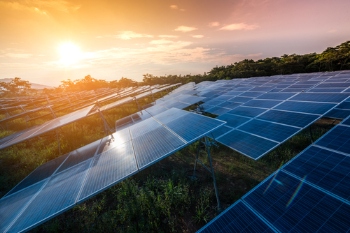 West Berkshire Council has submitted plans for a £12m solar farm that could generate enough electricity each year to heat over 7,000 homes.
A feasibility study has found that a solar farm would provide a viable option for green energy which would offset around 30% of the council's carbon footprint. The figure includes the estimated carbon footprint of key contractors working on the council's behalf.
The plans for the solar farm would see up to 60,000 solar panels installed on up to 75 acres of council-owned land. This would generate enough electricity each year to power the equivalent of approximately 7,282 homes.
Speaking about the plans, Cllr Steve Ardagh-Walter, executive member for the environment, said: 'Last year we installed solar panels on some of our buildings and we are now looking to build on this with the possibility of a new solar farm.
'It could significantly reduce our carbon footprint with any surplus income available to reinvest in other environmental projects. Our Environment Strategy is something we are absolutely committed to, and this new solar farm is a statement of our intent towards achieving a carbon neutral district by 2030.'