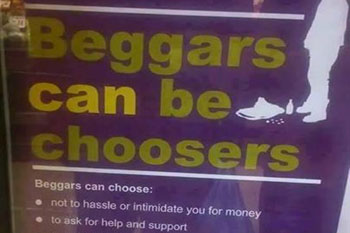 A city council has taken down posters stating 'beggars can be choosers' following a local backlash.
Hull City Council said the posters – which came as part of a national campaign - had been targeted to combat specific issues surrounding homelessness.
Concerns were raised that residents in desperate circumstances would not take support from the campaign, which said 'beggars' could choose 'to consider how their actions affect local people and businesses'.
Further points on the notice outlined how 'beggars' could choose 'to ask for help and support' or 'not to hassle or intimidate you for money'.
Sarah Hemingway, who runs Hull Homeless Outreach, told the Hull Daily Mail the posters were 'demonising' local homeless people.
The notices have now been taken down by the town hall following a wave of negative feedback.
A Hull City Council spokesman said: 'The posters were not intended to cause offence or harm. However, having listened to the feedback we've received, we have taken the decision to remove them.
'The posters were developed three years ago as a response to a specific issue. During the past three years, no issues or comments have been raised by any members of the public.'