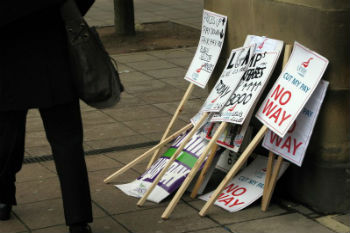 An offer to give council staff a 2.2% pay increase in a bid to avoid further strike action has been rejected, according to council bosses.
In a letter sent to chief executives, the Local Government Association said it had offered a 'long-term' pay deal to run until 31 March 2016, which included a 2.2% pay increase and a new minimum hourly rate of £7 per hour.
However, the deal was on the provision of trade unions calling off the strike planned for 14 October. The LGA said the deal had been rejected by Unison who refused to call off the strike and put the new proposal out to its wider membership.
In the letter, the LGA's head of workforce, Sarah Messenger, said she was 'extremely disappointed' by Unison's decision as GMB and Unite would have called off industrial action and put the offer to their members had Unison not rejected the proposal.
She wrote: 'This situation is enormously frustrating and highlights the failure of Unison's national leadership and activists to approach national negotiations in a strategic way with a view to the medium and longer-term.
'They have, we believe, done a great disservice to the overwhelming majority of their ordinary members by not allowing them to make up their own minds on the details of the revised pay proposal and consult their memberships.'
Ms Messenger said the closeness of the national minimum wage to the bottom pay point in local government did not 'sit easily' with council bosses, who 'have tried to think imaginatively about the shape of this proposal'.
But she said there was difficulty striking a fair balance between doing the right thing by staff and not making councils' financial positions worse at a time of unprecedented pressures on the sector's finances.