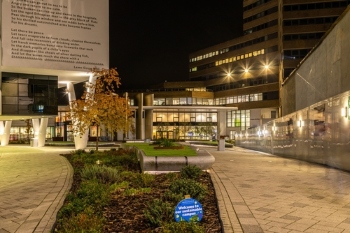 Kirklees Council has launched a public consultation on the 'cultural heart' of its £250m, 10-year blueprint to transform Huddersfield town centre.
The Kirklees Cultural Heart plan seeks to transform the town centre by giving it a new focus based on culture and leisure.
The consultation offers members of the public the opportunity to have a say on a new food hall and multi-purpose entertainment venue.
The proposals also include a new art gallery space and public square, museum garden and urban park, and Huddersfield Library will be refurbished.
Cllr Shabir Pandor, leader of Kirklees Council, commented: 'This is a once in a lifetime opportunity to redefine one of the great Northern towns. An investment like the Cultural Heart is an investment for Kirklees. It will be a major catalyst to stimulate further investment and economic growth, including jobs.
'The overall aim is to create a welcoming destination that's open to all, and to bring new people into the town centre, including Kirklees residents and visitors from further afield.
'We are very fortunate to have incredible heritage buildings in the centre of Huddersfield and these plans will not only revitalise some of Huddersfield town centre's most-loved buildings, but they will also have the opportunity to shine among new contemporary buildings and a range of high-quality outdoor spaces.'