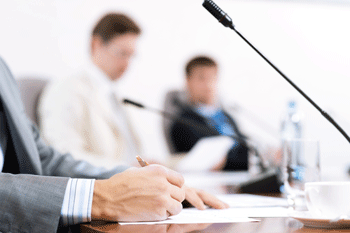 Kingston Council is set to introduce resident-led debates, live webcasting of council meetings and changes to council question time, as part of a wider programme of constitutional reforms.
Aiming to rebuild trust in the council, it hopes the measures will strengthen its relationship with the community and decision-making processes.
Cllr Kevin Davis, leader of Kingston Council, said: 'The changes we are proposing are a key part of re-building trust between local people and their elected representatives. We recognise that the council does not have all the answers... we have to work closer than ever with local people if we are to do the best for our area.
'To do this, we need to ensure that Committee meetings are not just going through the motions and serving our own decision making purposes. They need to be places where residents can bring their concerns and ideas, be listened to and then see action taken.'
Under the proposals, members of the public would be able to put forward motions for resident-led community debates, with those attracting at least 500 signatures on the council's website heard at Full Council meetings. Following a debate, councillors would make an immediate decision on whether to accept or refuse the motion.
The proposals also look to change the way councillors can ask questions of the leader of the council during formal council question times, permitting each political party on the council to ask the leader one question without prior notification.
Other proposed changes include the live webcasting of council meetings, and the reinstatement of the annual State of the Borough debate.