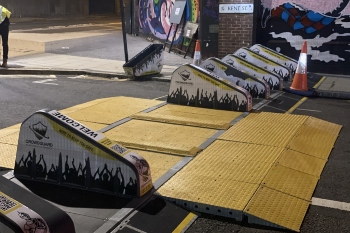 As we step into 2021, we do so with trepidation as do many local authorities as they navigate the challenges of a new lockdown looking likely to be in place until at least mid-February. This period of time is crucial in terms of taking stock and finding innovative ways to support businesses and the local economy after restrictions are eased, while also keeping people safe and restoring public confidence as we transition to the next phase of our new normal.
The legacy of 2020 has followed us into the New Year. There are some chinks of light, however, not only in the vaccine roll-out, but in what has been learned from the creative thinking applied by many local authorities. Much of that learning process and creativity has been founded on the potential to reap some positive benefits from the hardship and tragedy. The role of the public realm in supporting improved mental health and wellbeing, local businesses, environmental improvement and traffic management has never been clearer.
Local authorities across the country have repurposed roads for pedestrianisation or outdoor seating areas for local businesses to enable them to trade. The imperative now is to consider how this can be done safely and become part of a long-term strategy for encouraging safe local footfall and driving economic recovery. As well as playing into the government's ambitions for carbon neutral city centres by 2030.
The long road to recovery
Many of the businesses that adapted to enable customers to return safely when lockdown was lifted found themselves having to close again as restrictions were tightened. For now, even outdoor dining has ceased to be an option. However, now is the time to plan ahead for when restrictions are eased again and consider how hospitality businesses can be supported with increased potential for outdoor covers, and how footfall can be improved.
A clear solution to this is pedestrianisation. It's a solution that has already been trialled successfully by a number of local authorities and one that enables councils to dovetail economic, public health and environmental goals. Moreover, as we look forward to a renewed relaxation of COVID restrictions we are also heading into the warmer weather and longer daylight hours of spring when businesses can really benefit from increased outdoor facilities and an enhanced public realm.
It's also important to consider that the return to 'normal' trading will be gradual. While many people will be keen to return to pubs, shops and restaurants, others will look for options to enjoy their leisure time outdoors until they are confident that the risk of infection has truly passed.
The risk from vehicles
For both local communities and local authorities, safety from the virus is not the only consideration when it comes to pedestrianisation of towns and cities; safety from vehicles is also a key concern. Public consciousness has been focused on the threat of COVID infection over the past year but, during the pandemic, the terror threat level has been raised to severe and increased pedestrianisation carries with it an integral vulnerability to vehicle as a weapon (VAW) attacks.
The risk to pedestrians from hostile vehicles is not the only potential hazard. Any alterations to the road layout involves the potential for drivers to take a wrong turn because they do not know that the right of way has changed, so it's important to ensure that a mistake of this kind does not become a tragedy. Added to this is the potential for drunk or drugged drivers to veer into newly pedestrianised areas.
The good news is that all of these safety hazards can be managed to enable the use of roads as pedestrianised areas without any permanent changes or risk of damage to the carriageway. Conventional traffic cones or portable barriers will not protect pedestrians from vehicles, but a surface-mounted hostile vehicle mitigation (HVM) system enables a visible barrier to be erected to control access for emergency and delivery vehicles, while enabling free access for pedestrians. Local authorities can even opt to include extension plates that allow roads to be opened to traffic during restricted periods.
Local counter terrorism safety advisors (CTSAs) can advise on the safety requirements for specific locations and suitable solutions for both safety and flexibility. We are entering a period of continued uncertainty but it is also a time when there is an opportunity to trial new ideas for positive change, and safe, temporary pedestrianisation is amongst the ideas that has the potential to transform our local centres.
Deborah Ainscough is operations director at Crowdguard