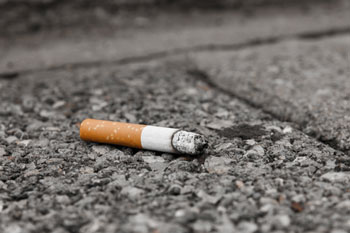 Edinburgh has adopted an innovative way of discouraging smokers from discarding their cigarette butts on the ground—the ballot bin.
First featured in the Neat Streets campaign run by environmental charity Hubbub, the bin aims to stop smokers from littering by asking them to 'vote' on certain issues.
One bin, for example, asks, 'Who's your favourite Trainspotting character? Sickboy or Spud'. Smokers can extinguish their butts in the ashtray under their preferred character.
After a pilot, the council has installed 20 of the bins around the city.
'The ballot bin project has proved very successful as it's a great example of using innovative ways of challenging people, who previously may have dumped their cigarette ends on the street, to dispose of them in one of the bins spread across the city centre,' said Cllr Lesley Hinds, environment convener for the City of Edinburgh Council.
Cigarette butt litter costs Edinburgh's city centre £2.4m a year to clean up.
'Some smokers don't seem to think of cigarette ends as litter and that it's OK to dispose of them by simply dumping them on the street,' Cllr Hinds said.
'Cigarette litter is as unsightly as any other litter and is particularly difficult to remove from Edinburgh's cobbled streets where the butts get stuck between the stones.'