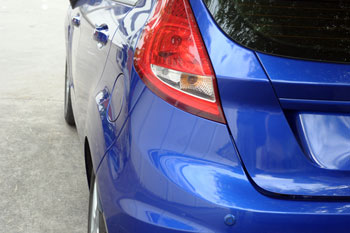 Smart parking technology offering live information to motorists is being trialled for one of the first times outside London.
Cardiff City Council is working with firm Smart Parking Ltd to pilot a system that allows people to see where parking spaces are available throughout the Welsh capital.
Sensors installed in parking bays detect the presence of vehicles, sending the information to a smart phone app. Motorists viewing a satellite view of the city will see a green icon on spaces that are available and amber or red where spots are already taken.
A total of 225 sensors have been installed in a selected number of the city's parking bays. The town hall confirmed the scheme could be rolled out across the city if it proves successful.
Cardiff's progress with the technology follows progress made by councils including Westminster and Milton Keynes surrounding on street parking sensors.
Cllr Ramesh Patel, cabinet member for transport, planning and sustainability at Cardiff City Council, said: 'Although our priority is to get as many people to use public transport as possible, city centre parking is also important. I am pleased the implementation of the Smart Parking pilot is complete and we now want as many people to download the free app as possible.'
Group chief executive officer at Smart Park Ltd, Paul Gillespie, said residents, businesses and visitors would see their driving and parking experience 'transformed' by the technology.
'Customers are able to make better informed decisions about their parking location and change their behaviour by seeking parking availability in less occupied streets close to their desired destination,' he added.
'Not only does this improve the customer experience by reducing the time taken in looking for a parking place. It also indirectly helps to reduce congestion and frees up space for others, making parking in Cardiff easier and more convenient.'